The Street is especially looking forward to the management commentary to get a sense of its new direction

The company has forecast its revenues to grow in the range of six to 10% for 2013-14, against the industry estimate of 12-14 per cent made by the industry body Nasscom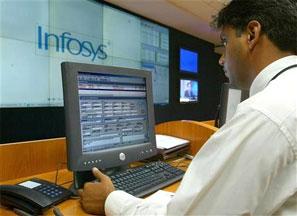 Infosys Ltd might have lost the bellwether status of the $100-billion industry, but the company's financial results, to be announced on Friday, are expected to be a keenly watched affair.

This will be the company's first result announcement after N R Narayana Murthy junked his retirement to return to the helm of Infosys as its executive chairman.

Even though analysts do not expect Murthy's return to have any major impact on the first quarter numbers, the Street is especially looking forward to the management commentary to get a sense of its new direction.

On July 12, the company will announce the financial results for the first quarter of 2013-14, kicking off the results season.

In their information technology (IT) results preview note, Hiten Shah and Abhishek Gupta of IDFC Securities said they didn't expect any major change in business commentary with Tata Consultancy Services (TCS) likely to be upbeat; HCL Technologies optimistic and the rest cautiously optimistic. "We expect Infosys to maintain its FY14 outlook, but share more details on what changes N R N Murthy would bring to business strategy and execution."

Dipen Shah of Kotak Securities added in his note the markets would watch out for any change in the full year revenue guidance of Infosys. "The return of Mr. Murthy to Infosys has raised hopes on the medium-to-long term prospects of the company."

However, the near term scenario remains challenging, he added.

The company has forecast its revenues to grow in the range of six to 10 per cent for 2013-14 against the industry estimate of 12-14 per cent made by the industry body Nasscom.

Shah said on a constant currency basis, there was no expectation of any change in the guidance but "expect revenues to gravitate towards the lower end of the range."

Margins are also expected to come under further pressure due to the recently announced salary increments.

The company had sprung a surprise last month when it announced that its co-founder Murthy was returning at its helm after his retirement from the company on August 20, 2011 from the position of non-executive chairman.

Murthy has also brought along his son, Rohan Murty to assist him, sparking debate over the succession plan of the company, which has so far been only led by its co-founders.

Murthy's return came at a time when the company was lagging behind its peers for the last two years as it struggled to cope with the changed demand scenario after the global economic crisis.

According to a Reuters report, Infosys shares have risen 4.1 per cent since Murthy returned to the company in June.

"I think this will be a usual quarter for the company. We do believe the company will revise its guidance. The dollar revenue growth range of 6-10 per cent is too wide. We think they will bring it down to six-eight per cent," said Ankita Somani, IT analyst at Angel Broking. In its report, Citi Research said it expected a two per cent revenue growth in dollar terms sequentially, while margins were expected to see a slight uptick quarter-on-quarter, even as visa costs and wage hikes remained key headwinds.
It said the key things to watch out at Infosys are 'changes to strategic direction', 'comments on deal flow', `recent wage hikes' and the company's views on the US immigration bill. Even though analysts are not very hopeful of Infosys' performing above what it has guided for, the global demand situation seems to be improving.
To be watched
Management commentary
Any change in yearly revenue outlook
Strategic direction
Company's view on immigration bill
Any unexpected management reshuffle