Working out of their tiny tents in the dingy bylanes of north Kolkata, potters of Kumartuli are now banking upon the Internet to reach out to the overseas clients.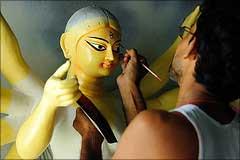 E-selling of idols of Goddess Durga is catching up with a few doing brisk business through the World Wide Web.
Earlier, organisers of Durga Puja abroad had to come down personally or contact the sculptors through relatives or intermediaries in the city.
"But now with our website, we easily sell our products to buyers settled abroad. They just log onto the website, see the catalogue posted there and e-mail us their requirement. We then deliver the idol at a place of their choice," said Pradyut Pal, who is involved in sculpting for generations.
Pradyut looks after marketing while his uncle Gopal Paul, cousins and brothers make the idols. "And the best part is that the middleman is eliminated as buyers contact us directly. This makes us more independent and gives us a better margin," he added.
With the Bengali community residing in various parts of the world, including the US, UK, Europe and South-East Asia, local artisans are leaving no stone unturned to cash on the Internet.
Few years ago, steel baron L N Mittal had reportedly sponsored an idol of Ramesh Pal, including its transportation from Kumartuli to London, for a Puja organiser there.Renowned artisan Amarnath Ghosh said, "It was my son Kaushik who insisted on having a website. It has made communication easier for us. The overseas market is expanding by each passing year. I have sent 18 idols abroad this year."
The cyberworld has helped them find new markets. For the first time this year we have found a market in the Fiji islands, he added. For veteran artist Dilip Pal, his daughter is creating a website for him.
"That will certainly help us. But the work for the website will not be completed by this year," he said. It was in 2004 when the idea of online marketing struck these artisans.