The revival of growth in the information technology industry is rubbing off on the real estate sector, too.
With all large infotech companies back in hiring mode, there has been a spurt of activity in the commercial real estate segment. Take the case of Tata Consultancy Services, the country's largest IT company. It is expanding existing facilities as it takes in more people, while also setting up new ones.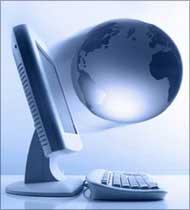 "We will look at aggressive hiring in the current quarter to match our talent needs with the business demand, which is definitely increasing. This invariably means that we are expanding our existing facilities at Ahmedabad, Chennai and Mumbai, along with new ones in Pune and Kolkata," a company spokesperson said.
There are many more instances.
Network Appliance Incorporated recently acquired a piece of land in Bangalore to expand India operations. Executives at the company accepted that they had bought a piece of land in Bangalore for expansion, but declined to comment further on the project as they were in the quiet period prior to the earnings announcement.
Noida-based QA InfoTech is planning to move to a campus that will be almost double the 50,000 sq ft it currently occupies in three separate facilities.
"We are planning to move to a campus that will be 80,000 to 100,000 sq ft in the next two-three months, where we plan to consolidate all three offices, and also to ensure that we have space for more employees," Founder and CEO Mukesh Sharma said. QA Infotech has 400 employees at present and plans to hire 100 more engineers over the next 12 months.
Real estate players also report an increase in demand from the IT sector.
"We have witnessed an increase in the number of enquiries from the IT sector this quarter (ending March). This is primarily due to the expansion these firms are doing in terms of hiring more manpower. We have seen a demand for office space in the range of 25,000-30,000 sq ft from the IT sector and this is definitely going to increase in the next couple of months," DLF Group executive director Rajeev Talwar told Business Standard. DLF is the country's largest real estate developer.
For Santosh Kumar, CEO (operations) at leading property consultant Jones Lang LeSalle Meghraj, it is the revival of the US economy that has encouraged IT companies to start looking at India again for expansion.
"This has helped the real estate market in the country. In the last few months, we have seen an increase in the number of enquiries from IT and IT-enabled services companies. Compared with last year, there has definitely been an increase of 20 per cent in enquiries and this is expected to grow further in the coming period," Kumar said.
Most IT hubs like Hyderabad, Chennai, Gurgaon, Bangalore and Mumbai are witnessing higher demand for office space from IT companies.
"From zero enquiries from IT companies in the last 12-15 months, we have seen quite a large number of enquiries coming in for office space in the last month," a Delhi-based real estate company Parsvnath's chairman Pradeep Jain said.