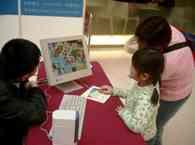 The US has set up its first detox centre to treat internet addicts, writes Leslie D'Monte.
Mumbai-based 15-year-old Naresh (not his real name) sits at his computer for eight to ten hours a day playing games (massively multiplayer online games) with his cyberspace friends in India and abroad, most of those he only knows by their internet name.
All this, of course, when he's not networking online on Orkut, Facebook, playing video games or happily tweeting away on his mobile phone.
He seldom goes out to play, sticks to his room, hardly has any friend visiting him and gets incensed when his parents counsel or reprimand him for the same. His parents are worried and don't know what to do. No amount of advice from friends and relatives has helped till date.

Worse, he now stays up all night to play to avoid any conflicting situations at home. Any attempt to cut access to the internet or the computer only results in threats to run away from home or commit suicide.
Naresh may sound like an extreme case, but he's not alone. It's estimated that anywhere between six to ten per cent internet users - around 1.7 billion worldwide of which almost 700 million are from Asia - suffer from some form of addiction to it.

While mental health experts agree that the internet has provided valuable service to people looking for support groups and treatment options through websites, newsgroups and email lists, they also caution that internet surfing, gaming and texting can become an addiction akin to "being on drugs".
A survey of British internet users, in fact, uses the term discomgoogolation to refer to a distressing condition, characterised by anxiety and stress at not being able to access the internet.

These users showed changes in brain activity and blood pressure. An editorial last year in the American Journal of Psychiatry stated that internet addiction is a common compulsive/ impulsive disorder that should be added to the psychiatry's official guidebook of mental disorders which will be updated in 2012.
Jerald Block, a psychiatrist at the Oregon Health and Science University in Portland, has pointed out that people can lose track of time or neglect basic drives like eating or sleeping.

Relapse rates are high, he said, and some people may need psychoactive medication or hospitalisation. He added that around 86 per cent of internet addicts have some other form of mental illness but, unless a therapist is looking for it, internet addiction is likely to be missed.
Countries, however, are slowly waking up to the menace that this addiction can cause, and are taking concrete steps to solve the problem. China and South Korea are already addressing the problem.

China has the world's largest online community with over 300 million users, many of who are believed to suffer from excessive use of chat rooms and online gaming. China banned the use of electric shock to treat such "addicts".
In 2005, a South Korean man died after reportedly playing an online computer game for 50 hours with few breaks. The 28-year-old man collapsed after playing at an internet cafe in the city of Taegu. Doctors blamed his death on heart failure due to exhaustion.

In South Korea, there are centres that specifically deal with the problem which is said to affect 14-18 per cent of the country's population. The government has also trained over 1,000 counsellors to treat internet addiction.
Even the US has set up its first detox centre to treat such addicts. Called reStart, it's a 45-day programme located in Fall City near Redmond (home to Microsoft) and Seattle. It is designed specifically to help internet and video game addicts overcome their dependence on gaming, gambling, chatting, texting and other aspects of internet addiction.

Co-founded by Cosette Rae, MSW, and Hilarie Cash, PhD, this 6-bed facility provides a family-style retreat where its participants can have an internet and video-game-free therapeutic experience.
The programme is structured to include individual and group therapy, life-skills coaching, cooperative living, physical and nutritional education, mindfulness training, work and home-maintenance skill-building, 12-step meetings, and weekly off-sites and high-adventure expeditions.