Infosys hasn't decided on giving a pay rise in FY14, but it is working on a strategy to help its employees get more salary without actually increasing their salary base.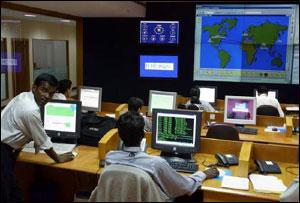 The Bangalore-based information technology (IT) services company has said it is looking at introducing a new compensation structure for its employees worldwide. In it, the component of fixed salaries will be higher, which will reduce the uncertainties associated with variable salaries.
"We have always been extremely innovative on the compensation front. Last year, though the environment was very tough, we had given a compensation increase. One of the things which we are looking at for a while is to restructure the salary so that we balance the variable and the fixed salary," Infosys' CEO & MD S D Shibulal told Business Standard.
The variable component constitutes as much as 50 per cent of the total pay package of senior executives at Infosys. However, in case of the junior- and middle-level professionals, it accounts for 20 per cent of their gross salary, according to company insiders.
There is always an element of uncertainty in the variable component, as it is linked to the revenue growth and the operating margin of the company. In the quarter ended March 31, Infosys' attrition went up to 16.3 per cent, one of the highest in the recent past. The firm's attrition was 15.1 per cent the previous quarter.
Infosys, however, said it was yet to take a decision on giving annual wage rise to employees.
In FY13, the company deferred giving increments to employees in April, which it finally announced in October 2012. The average rise given to offshore employees was in the range of six-eight per cent, whereas the onsite ones were given a rise of two per cent on an average.
Infosys is now holding internal discussions on when to effect the next salary rise, said Shibulal.
"Our employees are our very big asset and we have to do what is right for them. So, we have to look at it and see," he said.
Meanwhile, the company said it would go slow in its campus hiring plans this year and would also consider doing 'just-in-time' hiring. This means instead of hiring the freshers in one go, the company would hire them as and when there is a requirement.
The firm added that all the campus recruits who were given offer letters in FY12 have joined the company.
"We will soon decide on the date of joining of about 5,000 campus recruits who were given offer letters last financial year (FY13)," said Srikantan Moorthy, global HR head of Infosys.
As on March 31, Infosys had a headcount of 156,688 including the employees of its subsidiaries.
Innovation fund
To give a fillip to its products and platform business, Infosys has formed an innovation fund of $100 million.
The money will be used to fund ideas, in line with the company's strategy of Infosys 3.0, said the firm, adding ideas from people both within the organisation and outside will be considered.
Infosys 3.0 is a new strategy, which the company unveiled recently, that will focus more on intellectual property-related products, and the platforms and solutions business. The firm has also identified seven areas in the products and platform space, which it wanted to focus on.
"We need to increase our share from the product, platform and solution business. Infosys is a company which employs many innovative people and some of these ideas can't be expandable within our premises. There are also some areas where we don't work. In such cases, we can pick up those ideas if those make sense. We can invest some money to develop those ideas into businesses and spin off," said S D Shibulal, CEO and MD of Infosys.
At present, the PPS business contributes about 5.7 per cent to Infosys' overall revenues.
Apart from investing in the ideas originated from within the company, Infosys is also planning to invest in external companies, projects and IP-related products and platforms in line with its 3.0 strategy.
"There are always options in technology wherein you can invest money in technologies developed by an external person. We will invest in those ideas which can be capitalised or rolled back into Infosys. These are series of decisions, which we are taking to execute our 3.0 strategy," he added.
During the fourth quarter, the company applied for 21 patent applications in India and the US. With this, Infosys has 532 patent applications undergoing various stages of patent prosecution in India, the US and other jurisdictions. It also said 84 patents were granted by the United States Patent and Trademark Office and three by the Luxembourg patent office.
Infosys has already launched Flypp, a white-labeled app marketplace product and platforms such as Infosys BigDataEdge, Infosys CommerceEdge, Infosys WalletEdge, among others.
Image: Engineers work in the control room at Infosys Technologies campus atElectronics City in Bangalore. | Photograph: Pawel Kopczynski/Reuters