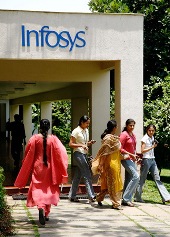 Infosys will get listed on NYSE Euronext London and Paris markets On Saturday, becoming the first Indian company to be admitted to trade on the leading global bourse.

Infosys chief executive officer and managing director S D Shibulal will be in London to mark the first cross listing of an Indian company, a company statement said.

"Listing on NYSE Euronext enables UK, French and other European investors to have direct access to Infosys ADS. It is a testament to the strong relationship between Indian and the UK and allows UK investors to benefit from the India growth story," Shibulal said.

Infosys began trading on the NYSE on December 12, 2012 and trades under the ticker symbol INFY.

Infosys
will also trade on NYSE Euronext under the ticker symbol INFY.
Commenting on the development, UK Prime Minister David Cameron said: "Infosys is a great example of Indian investment in the UK and I am delighted that they will be the first Indian company to be admitted to trade on NYSE Euronext London this week."
Bengaluru-based Infosys was founded in 1981 by seven people and today has revenues of over $7 billion and employs more than 1,55000 people.
The globalisation of the Indian technology sector was pioneered by Infosys that now represents 24 per cent of Indian exports and 13 per cent of BSE benchmark index Sensex.
The Euronext listings are intended to attract investors based outside of India and the US, particularly in Europe, to provide greater access to Infosys' ADS among European fund managers.