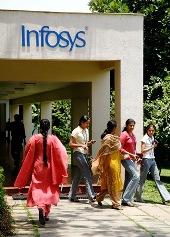 Infosys Technologies on Monday said it had signed a definitive agreement to acquire Switzerland-based management consultancy firm Lodestone Holding for 330 million Swiss Francs (about $345 million or Rs 1,930 crore) in an all-cash deal.

The amount considered for the acquisition is about 1.3 times the revenues Loadstone is expected to garner in calendar 2012.

The acquisition is in line with Infosys' 3.0 strategy, where it aims to position itself as a global system integration and consulting corporation.

"A key plank of our 3.0 strategy is to expand our consulting & systems integration business.

"This buy fits into that strategy. Lodestone and Infosys share a culture of focus on nurturing and maintaining client trust," said Infosys CEO & Managing Director S D Shibulal.

Founded in 2005, Loadstone reported revenues of 207 million Swiss Francs in 2011 calendar year, a growth of 14 per cent over the previous year.

The Zurich-headquartered company will come to the Infosys fold with 850 employees, of which 750 are highly-valued SAP consultants advising global companies on strategy, process optimisation and IT transformation.

The acquisition will also bring to Infosys over 200 clients from diverse verticals such as manufacturing, automotive and
life sciences.
Infosys' consulting & systems integration business on Monday accounts for over 30 per cent of its overall revenues, with over 30,000 consultants servicing clients across industry verticals.
After the acquisition, Infosys expects its SAP-focused consulting practice programmes to deliver revenues in excess of $1 billion.
The acquisition will help it expand its footprint in continental Europe, which accounts for 10 per cent of its European revenues.
Loadstone derives half its revenues from Switzerland, while 23 per cent comes from Germany.
"We are investing in consulting when the whole world is uncertain and discretionary spending is under pressure. That's our conviction.
"For every dollar of consulting, you get two-three dollars of traditional IT services jobs.
"If we are able to get the synergy in this deal, this could be a large growth area for us," said Infosys CFO V Balakrishnan.
According to Infosys, the transaction is expected to close by October-end, subject to customary closing conditions. After the acquisition, Loadstone will operate as Infosys' Europe subsidiary, with the current CEO Ronald Hafner at the helm. Infosys board member and head of Europe business, B G Srinivas, will be the chairman of the subsidiary.
The company's stock rose 0.6 per cent to Rs 2,511 on the Bombay Stock Exchange on Monday.