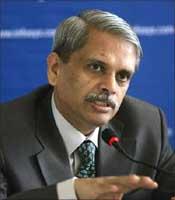 Software major Infosys, which has a robust cash chest for sure and made no secret of its intention to buy out companies with a strategic fit, is finding it difficult to acquire right firms at the right price.
The country's second largest software exporter had cash and cash equivalents of Rs 12,030 crore (Rs 120.30 billion), including investment in liquid mutual funds and certificate of deposits, as of June end this year.
". . . we are looking at acquisitions. But acquisitions will happen only when you find the right company. . . it has to be at the right price and they want to be acquired and that's difficult", the Bangalore-headquartered company's chief executive officer and managing director S 'Kris' Gopalakrishnan told PTI.
"We don't want to do an acquisition for acquisition's sake."
The Nasdaq-listed firm is eyeing regions other than the United States and Europe to expand overseas.
"We are expanding into the Middle East, South and Latin America. We already have a significant presence now in Japan, China and Australia. We are looking at geographies outside the US and Europe," Gopalakrishnan said.
Asked if the transition phase following the exit of Nandan M Nilekani, who quit as chairman to head the Unique Identification Database Authority of India (UIDAI), has been completed, Gopalakrishnan said: "Yes, it's immediately done."
Nilekani's responsibilities have now been distributed among the top management of the company. There is no proposal to appoint an executive chairman in his place 'at this point'.
Gopalakrishnan did not agree with the perception of some analysts who argued that the global recession has bottomed out.
"It's very difficult to extrapolate at this point because there are negative cues also," he said, pointing out to failure of another set banks in the US last week.
"There is positive news and negative news. So, I think, the uncertainty will continue and it's better to be cautious at this point and wait for two quarters of good numbers before we can say that it's all behind us."
He said Infosys's customers are also echoing similar sentiments. "Customers are also saying the same thing. They are also saying it's too early to say that it (global recession) is behind us and it's over. So, we have to be cautious," he said.
Image: Infosys chief executive officer and managing director S 'Kris' Gopalakrishnan.
Photograph: Reuters