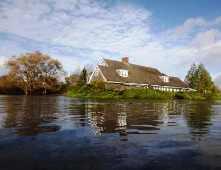 Indian information technology companies have issued advisories to their employees in the US, apart from shutting their offices located in the areas affected by Hurricane Sandy.

Leading Indian IT firms such as TCS, Infosys, Wipro and HCL Technologies have said they have a strong business contingency plan, ensuring no disruptions to business.

The export-driven IT and business process outsourcing services industry in India derive 62 per cent of revenue from North America.

According to industry body Nasscom, Indian technology firms support 280,000 jobs in the US, of which about 107,000 is direct employment.

While most Indian IT firms have onshore offices and delivery centres in different cities in the US, they also frequently send senior executives to the country for business-related work.

"We have been in touch with our employees and their families to ensure they have  requisite information on what to do in case of an emergency.

Additionally, we are restricting business travel to the region for the next few days," said Bengaluru-based Infosys.

Infosys, which has 17 offices in the US, employs about 15,000 people in the country.
The company has offices in Bridgewater, Charlotte, Delaware, New York, Hartford and Quincy.
The company said it had closed a few offices in the affected areas, as a precaution.Tata Consultancy Services, India's largest IT services company, said it had shut all its five offices along the east coast, which has been severely affected by the superstorm. The Mumbai-headquartered company has two offices in New York.
"All our employees have been advised to stay home," said a spokesperson,
adding the company was not expecting any disruption to business.
"We are closely monitoring the situation and working with local authorities to ensure the safety of our employees and their families.
"We have also activated business continuity procedures in collaboration with our customers," said HCL Technologies. Nasdaq-listed IT services company iGate said it had set up a dedicated team to regularly communicate with major customers in the US.
The company added it had activated business continuity processes wherever required.
"Client data of customers on the east coast is fully secure via our disaster recovery centres on the west coast and elsewhere.
"We are ready to switch, based on any alert, within 15 minutes," said Chella Namasivayam, chief information officer of iGate.
According to IBM, which provides business continuity and resiliency services to clients, disaster preparedness and recovery is an imperative in today's world where natural calamities such as hurricanes, floods or man-made disruptions such as a bandh are becoming increasingly common.
"The implications of an 'interruption' to service can result in significant damage to the reputation of the brand and result in loss of millions of dollars of revenue.
"Year 2011 has been the costliest year as far as disasters are concerned," said K S Raghunandan, director, Integrated Technology Services, Global Technology Services, IBM India/South Asia.
IBM has 154 resiliency centres across 55 countries, which facilitate disaster recovery services to over 12,000 clients.
Image: Homes are surrounded by floodwaters pushed up by high tide and the storm surge from Hurricane Sandy in Westhampton Beach, New York | Photograph: Eduardo Munoz/Reuters