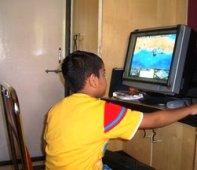 Today, it's hard to imagine kids not connected to the web in one or the other way.
But technology-based communication platforms also give new dimensions to the age-old parenting strategy -- monitoring kids.
Confirming online dangers are real, a global study conducted by Norton indicates that 62 per cent kids across the world have had negative online experiences.
The India picture
The good news is, parents in India know exactly how many hours their children spend online.
The bad news is -- according to Norton Online Family Report -- about 77 per cent children in India have had negative online experiences.
A report of the Internet and  Mobile Association of India claims school and college students contribute up to 11 per cent internet usage in country.
Anil Sharma, a technology enthusiast working with uniLrn (www.unilrn.com) -- a fully connected online platform for more than 25 schools -- points out: "The virtual connections kids can make using the internet will only increase.
And, companies now have even begun to unveil smartphones with popular social networking sites, where plenty of questionable, even dangerous, communication can take place without any security barrier, making the ability to supervise even more difficult."
Among the most popular sites for children between eight and 12 years are Club Penguin, Stardoll, Trollz and Webkinz.
These websites are all commercial enterprises.
Club Penguin, for example, charges a monthly membership fee for access to all of the site's features (limited access is available for free).
Stardoll sells virtual merchandise.
Trollz features advertising and sells merchandise. Becoming a member of Webkinz requires you to buy a stuffed toy from a retail store or online merchant listed on the site. They also sell add-on merchandise, including trading cards.
These sites, in other words, are in the business to make money and the more kids visit these sites and the longer they stay there, the more money the site makes.
New risks, a few conquered
Mridula Bose-Sahay, co-owner of The Maximum Store and mother of three young children, puts her foot down when her kids urge her to buy game add-ons online.
"They have accounts on sites like Club Penguin, which is linked to my email account. But, I am not ready to show my 10-year-old daughter or seven-year-old twin boys how to buy online with my credit card."
Sahay's husband gifted their daughter a netbook on her birthday this year. "I am evaluating which security software to install on the home laptops and PC, since my twins have also started surfing on social networking sites and emailing their friends," says Sahay.
Norton Online Family report shows one in every two parents remains unaware of the extent to which his/her children download music, games and videos online.
Two years back, Gowri Sinha, who heads VocaBoom a vocabulary-enrichment programme in Gurgaon, introduced her school-going daughter to the internet "to help her with educational assignments."
But, when Sinha heard about a few child abuse examples on the web, she ensured that her daughter never logged on to the web without prior permission.
"I don't have a desktop PC, so my daughter is required to use my laptop. This way, I am always physically present to monitor the sites she logs on to and the amount of time she spends browsing."
Parents are beginning to accept the fact that their kids, as young as four years old, will insist on having their own email ids.
"However, parents can ensure that the child's email id is linked to their email accounts," advises Sharma of uniLrn.
Even as parents are less likely to monitor their children's behaviour, experts says teenaged children are more inclined to hide what they do online from their parents as they get older. According to studies, more than half the 16-17 years olds hide their online activities.
This is what Vijayan Kumar, father of a 15-year-old son and a content writer with a multinational company, discovered. "I don't monitor my son's browsing hours but I do keep a track of the sites he visits.
"When I noticed a few x-rated sites my son logged on to, I decided to have a word with him on the security hazards of such sites. I explained him that these could infest the home computer with malware," Kumar says.
The numbers also tell a familiar story. Almost a third (29 per cent) of teens downloaded programs without their parents' knowledge and 16-17-year-old boys (45 per cent) were most likely to download x-rated content or other programs without parental knowledge.
Tools you should know about
Security software companies are beginning to see the opportunity and Norton has launched a service to make life a lot easier for parents.
The company calls it OnlineFamily.Norton, which enables parents to monitor children's online activities by reporting in real time to a web account that shows what search terms their children use, which websites they visit and what social networks they are on.
This means parents will have access to information from their computers, even when they work or travel.
They can get email alerts and take action to adjust settings from any web browser.
Every day, antivirus detectors of Kaspersky, another security software company, register about 20 children's websites infected with malicious code.
Some of these offer goods for children, but most are educational or gaming websites that receive more than 100 hits per day.
"If your computer is not protected by an antivirus programme, you are putting it at risk by allowing your children to surf the Internet," warn experts at Kaspersky.
Parents want their kids to enjoy their mobile or online experience and also want them to be aware of how to be safe, says McAfee Chief Cyber Security Mom Tracy Mooney.
"I have tried to be vigilant about checking in from time to time to see what my kids are doing online, but I know that now, with their mobile device, my kids have more access than ever," Mooney notes.
While it is impossible for parents to check the mobile web usage on their teenagers' mobile phone, McAfee's Family Protection iPhone, iPod touch and iPad Edition software automatically blocks age-inappropriate sites, such as known pornography websites.
This allows parents to view usage statistics, including visited websites and access times and gives parents the option to remotely disable web browsing on mobile devices.