Google executive chairman Eric E Schmidt landed in Bangalore for a first-hand feel of the Indian start-up ecosystem and an interaction with the India product development and engineering team. He is set to meet senior government functionaries in Delhi, inaugurate a joint initiative with Nasscom and Microsoft India to fund and mentor start-ups in the country.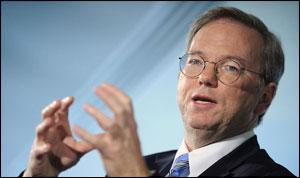 Schmidt had a closed-door meeting with four start-ups in Bangalore: Kanaja, an encyclopaedic knowledge portal in Kannada; RedBus, an online bus booking service; mDhil, an internet and mobile-based health care info service provider; and Sakala, a Karnataka government services portal.
One participant said Schmidt highlighted the penetration of smartphones in the country was a business opportunity, as many first-time web users were accessing the web through the phone. India is expected to have 600 million internet users by 2020, from 150 million now.
According to Google India Product Head Lalitesh Katragadda, Schmidt, in his interaction with the engineering team in Bangalore, stressed on product innovations for emerging markets. "He sees Bangalore as a centre of innovation for the India market," Katragadda said.
Bangalore was Google's first research and development centre outside the US in 2004. Its second India office at Hyderabad is home to engineering, online sales and service, information systems, human resources and other support functions. The Delhi and Mumbai offices focus on supporting Indian advertisers through Google AdWords programme, its online advertising platform. Google has 2,000 employees in India.
According to Arjan Dijk, global director of small business marketing at Google, India is one of the fastest-growing markets where small and medium enterprises (SMEs) are going online. Over the last two years, Google's take-your-business-online initiative has helped 175,000 SMEs to have internet presence, he said. This number is expected to touch 500,000 by end of 2014, he added. Once they go online, Google then helps these businesses through its online advertising platform AdWords to find new business opportunities.
Google India products currently supports six languages in the country - English, Hindi, Tamil, Telegu, Malayalam and Kannada. In a bid to deepen its marketing presence and reach, Google partners with advertising and marketing agencies, and currently claims to reach out to 165 cities across the country, spanning Tier I and II cities including the metro cities. Plans are afoot to launch a mobile for strategy to help businesses go online, Dijk said. In 2012, Google Inc, generated around $42.5 billion in advertising revenue.
Schmidt's maiden India visit is expected to help Google India deepen its engagement with the Indian market, including the government sector.