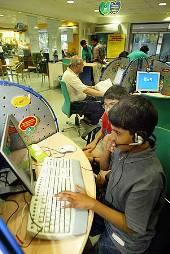 Zapak, Games2Win have launched new games themed on the trick-or-treat celebration to attract subscribers, especially from the US.


Halloween, the trick-or-treat celebration for children and adults alike, is almost here (October 31). And, Indian gaming companies are readying new frightful-and-yet-fun-filled offerings to send a chill down the gamer's spine.


The move is designed to attract more subscribers, especially from the US, and the advertising money that accompanies them.


"It's a seasonal play. Online gamers usually play almost all new games they see on any casual gaming website. If a new Halloween game has been put up during the Halloween holidays, they will be played by almost every user visiting these websites.


"Moreover, it's a holiday, so there will be huge traffic on that day, with the US dominating the industry," said Alok Kejriwal, chief executive and co-founder of Mumbai-based Games2Win.


Widely accepted to be the second largest decorating holiday after Christmas, Halloween is a whopping $5-billion industry globally, which include parties, costumes, gifts and online games.


Of the over $15-billion gaming market worldwide, season-based games like Diwali, Halloween, Christmas and New Year account for close to 10 per cent.


Games2Win has about four Halloween games on its website and is planning two new games for this year. "We have designed a Halloween House for our kids virtual world -- Chimpoo.com -- where kids can buy a Halloween house for themselves and decorate it with spooky props and furniture.


"They can also buy Halloween costumes. This will be released during this Halloween week," Kejriwal added.


According to research firm Newzoo's US National Gamers Survey 2010, about 160 million Americans play games on multiple platforms -- online, smartphones and social networks.


"Online Halloween games grab the attention of all these users in the US, and so we have the right audience and a reason to target them.


We have developed a Halloween game titled Doom Rider, which has so far attracted more than one million gameplays worldwide.


We are now working on two more games, scheduled to be released in a week's time, for which we expect half-a-million gameplays," said L Maruti Sanker, managing director of 7Seas
Entertainment Limited.
"Usually, kids between the age group of five and 12 years like to explore the scary stuff and scare others too, while teens and tweens play it for the kick and enjoy the experience for the moment.


"It's just exciting for them to try different spooky tricks, knowing that there is hardly any reality to it," said Kejriwal.


Being a seasonal feature, gaming companies do not go over-board on investing too much in developing Halloween games. The fever gets over in two to three days and then it is business as usual. However, what matters for them is the quick addition of millions of users to their websites in just about a week.


For instance, the Reliance Anil Dhirubhai Ambani Group's Zapak Digital Entertainment Limited has four games on its zapak.com website -– Zombie Mall, Ghost Attack, Ghosts Hunter and Halloween Ghost Hunter -– receiving around 40,000 page views.


"Halloween is related to ghosts and spirits, and is celebrated by a very niche audience. During Halloween, we witness a spike in these games and the page views go up to 65,000-70,000," sid Rohit Sharma, chief executive officer of Zapak.


Mobile game development companies too are jumping on the Halloween bandwagon. Mumbai-based Nazara Technologies has developed a mobile game called Halloween Pace Boy, which is based on the traditional concept of PacMan but transfers the player to a universe of fantasy and mystery with grim settings capable of scaring the braveheart.


"Halloween games have always been popular with gamers who want to experience the thrill of being part of a spooky world. Today, when games have a plethora of options, gamers continue to experiment on segments which are innovative and different.


"Seeing the potential of the segment, we are planning to launch three new games for Halloween shortly," said Nitish Mittersain, chief executive of Nazara.


He said their target customer in the Indian market for Halloween games is GenY, in the age group of 18-25.