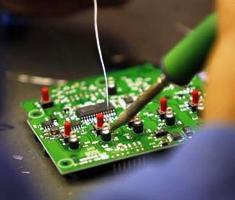 The country's electronics industry is on the edge with the sale of products such as laptops facing a possible blackout from next month onwards.

According to a missive by the department of electronics and information technology, major electronics products could not be sold or imported into the country unless they are tested for quality standards and certified by the Bureau of Indian Standards.

However, despite a three-month extension in the original deadline and around 1,500 applications, BIS has registered just one product so far.

"A complete licence raj has been unleashed on the industry by way of this compulsory registration, which is neck-deep in bureaucratic red tape," said a senior official of a major personal computer manufacturer, who did not want to be identified due to the sensitivity of the matter.

"The delay is worrying the industry no end," the official added, saying test reports of products, which were globally certified before worldwide launches, were being returned with a 'volley of questions'.

J V Ramamurthy, president of the electronics hardware industry body Manufacturer's Association for Information Technology, said unless this issue was resolved or the government further extended the deadline, the industry would not be able to import or sell any product after July 3.

"Since the list of products required to be certified includes major items such as notebooks, tablets, plasma and LCD television sets, along with printers and scanners, the turnover of companies is expected to be severely impacted," said Ramamurthy, who is also the president and chief operating officer of HCL Infosystems Ltd.

The department introduced the Electronics and Information Technology Goods (Requirements for Compulsory Registration) Order late last year to check the sales of substandard and spurious electronic items in the country, which were considered not only to be a health hazard but also a security risk.

To start with, the government had notified a list of 15 products as requiring compulsory registration with plans to notify other products as well as components in later stages.

An official of the department of electronics said discussions were going on with the ministry of consumer affairs, food and public distribution to which BIS was attached to find out a solution. Justifying the time being taken for the registration, a BIS official told Business Standard
various components, along with each product application, had to be critically examined.
"Every report is 40-50 pages long, which has to be looked into minutely." The official, who also did not want to be named, said the process to grant registration was started six-eight months ago and there were nine certified labs in the country, which had been deputed for the purpose.
"Even if companies can't meet the July 3 deadline, if they have submitted the test report, they can continue to sell the products till October by which time the registrations should be completed," the official added.
However, any delay beyond the July deadline will invoke a penalty of around Rs 100,000 per month on each product line a company sells.
"For any vendor, it would mean an expenditure of Rs 50-60 lakh (Rs 5-6 million) per month as a consequence of something which is of no fault of theirs," said S Rajendran, chief marketing officer of Acer India.
Rajendran added each vendor would on an average get at least 50-60 of their product ranges registered, which fall within the mandated categories.
This also comes at a time when the industry is reeling under the impact of slow consumer as well as corporate sales of electronic items in the country, along with a depreciating rupee that will add to companies' import bill.
Even though the first quarter of the calendar year 2013 was better in terms of sales, the overall personal computer shipments grew by just three per cent over the corresponding period last year at 2.71 million units, according to market research firm IDC India.
ELECTRONIC EYE
Products that need to be certified by the Bureau of Indian Standards before July
1 Electronic games (video)
2 Laptops and tablets
3 Plasma/LCD/LED televisions of screen size 32 inches and above
4 Optical disc players with built-in amplifiers of input power 200 W and above
5 Microwave ovens
6 Visual display units, video monitors of screen size 32 inches and above
7 Printers, plotters
8 Scanners
9 Wireless keyboards
10 Telephone answering machines
11 Amplifiers with input power of 2000 W and above
12 Electronic musical systems with input power of 200 W and above
13 Electronic clocks with mains powers
14 Set-top boxes
15 Automatic data processing machine