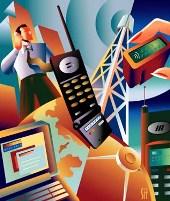 The department of telecommunications is considering reducing the validity period for which US telecom major Qualcomm Inc would be given broadband wireless access or 4G spectrum to 18 years instead of the 20 stipulated under auction terms.

The move is being considered after growing clamour from competing 4G operators for a level playing field in relation to Qualcomm.

Infotel Broadband, a company controlled by Reliance Industries which has pan-India 4G spectrum, has communicated to the government in letters as late as  last week the need for a level playing field among operators.

It has requested the validity of its spectrum and licence be extended so that it has a level playing field with Qualcomm. RIL did not comment on the issue.

The DoT is looking at reducing the five-year roll-out obligation imposed on 4G operators in proportion to the reduction in the spectrum validity period.

A top
DoT official confirmed the development and said a final decision would be taken soon.
Competing 4G players have argued that Qualcomm Inc received its licence after two years in March this year due to its own problems, related to its structure and because of certain disputed financial dues to be paid by its equity partners.
They argue the delay in getting spectrum will benefit Qualcomm as it will be able to offer services for a longer tenure, which will go beyond 2030.
Qualcomm had won BWA spectrum in four circles -- Delhi, Mumbai, Haryana and Kerala -- for about Rs 4,900 crore (Rs 49 billion) in an auction held in June 2010.
It had made it clear that its interest in the auction was to ensure the technology it was backing was adopted by all operators.
The government is planning the second round of the 4G auction by the end of this year.
The ministry of information and broadcasting has agreed to release spectrum in the 700 MHz band, which will be auctioned by DoT for 4G services.