To provide cheaper broadband connections in Uttar Pradesh, especially its rural areas, public sector telecom major Bharat Sanchar Nigam Limited on Tuesday announced its partnership with Chennai-based IT solutions company Novatium.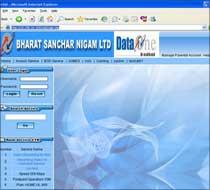 "The broadband penetration in UP is quite low and lower still in rural areas. With this partnership, we are confident of achieving our target of 75,000 broadband connections in UP (East) telecom circle this fiscal," BSNL chief general manager Om Vir Singh said.
Novatium launched three new products Nova Navigator+, Nova Neon and Nova cNergy to provide seamless net connectivity to the BSNL broadband consumers.
UP is the first state, where Novatium has launched these products and gradually other states would be taken up, company's general manager (strategic alliance) Praveen Dwivedi said.
Nova Navigator+ transforms a normal TV into a computing device, while Nova Neon is a netBook enabled with Wi-fi, multiple USB ports and 160 GB hard disk. Nova cNergy is a USB stick to enhance the existing PC/laptop with Nova environment.
In UP (E) circle, Novatium has booked 3,500 net PC along with BSNL broadband.
"We are in the process of connecting all village panchayat in UP East," Singh informed.