Neeraj Bhargava, the co-founder and chief executive of WNS, India's second-largest business process outsourcing firm, will step down on January 31 to join private equity firm Steer Capital Advisors.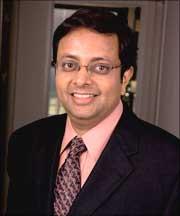 Bhargava along with Harsha Raghavan, the former India head of Candover Investments, have formed Steer Capital, a private equity firm focused on backing the next generation of Indian businesses. Bhargava was not available for comment, but a Steer Capital spokesperson confirmed the news.
WNS was set up in 1996 as a captive back-office operation for British Airways. The company became a third-party vendor in 2002. Bhargava has been associated with WNS for close to eight-and-a-half years.
He has been the CEO of the company for over six years and was responsible for the company's growth from $15 million in 2002 to $390 million by the end of this year.
Bhargava has also served as the managing partner for eVentures, a venture incubation firm, and before that he was a partner at McKinsey & Company. WNS is yet to select a successor to Bhargava. When contacted, the company spokesperson said: "The board will be making an announcement about WNS leadership shortly."
Raghavan brings to Steer Capital nearly 15 years of investment and buyout experience as the former India head of Candover Investments, co-head of India for Goldman Sachs PIA, and vice-president at Indocean Chase Capital. He has also been an entrepreneur as the co-founder and CEO of a software company called Stario Inc.