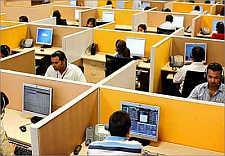 The recent financial numbers of global IT majors such as Accenture and Oracle have given enough indication that the demand environment continues to remain subdued.

Global IT services and consulting company Accenture, which follows a September-August financial year, has said it is expecting its revenues to meet the lower end of its guidance, primarily due to the longer sales cycles.

The company had earlier given a revenue growth guidance of 5-8 per cent.

On the other hand, enterprise software developer Oracle has also reported a much weaker growth in its new licence sales in the March quarter.

The company, however, has attributed this to execution issues rather than weak macro spending.

"The sale of software licences is a leading indicator of the transformation projects that are happening globally. If software does not sell, it means that not many large implementations and change projects are happening. So given this, it is going to be a tough time for Indian companies, at least for the next 12-18 months," said Samiron Ghoshal, partner and national leader, IT advisory, Ernst & Young.

According to a recent research report by Morgan Stanley, in the absence of a clear recovery in the global market, company-specific deals win
and execution of those deals as well as the ability to manage costs would play a key role for Indian IT services providers.
"We believe results of MNC peers lower the probability of any material beat in March 2013 revenue growth versus expectations for the India IT vendors solely due to macro spending trends.
Company-specific deal wins, cost ramp-up and execution trends could be more important, in our view," the report said.
While Accenture has lowered is revenue guidance, on the positive side, the company has shown strong growth in financial services at 9.6 in its second quarter ended February 28, 2013.
Any uptick in the BFSI (banking, financial services and insurance) space is seen as a good sign for Indian IT services players, since they rely heavily on this sector for revenues.
"From the results announced by Oracle and Accenture, it is clear there are no positive takeaways on discretionary spending for Indian IT firms for CY13/FY14," noted Harit Shah, senior research analyst at Nirmal Bang Institutional Equities in a recent report.
Nasscom, the apex body that represents the Indian IT industry, has given slightly improved export revenue growth guidance for FY14 at 12-14 per cent.
For FY13, Nasscom had initially given a growth guidance of 11-14 per cent, which it subsequently lowered to 11 per cent.