India's diplomatic stand on Sri Lanka's human rights violations seems to have cost Indian vehicle manufacturers dearly. Last year, after India voted against Sri Lanka in the UN Human Rights Council (UNHRC), the island nation increased duties on vehicle imports. Now that India has again voted against Sri Lanka on the US-sponsored UNHRC resolution, Indian automobile makers fear there might be a similar knee-jerk reaction this time as well.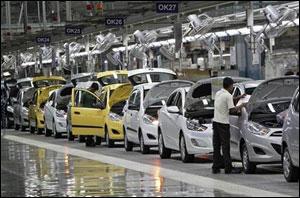 Last year, Sri Lanka had raised the import duty on cars from 120-291 per cent to 200-350 per cent, from 51-61 per cent to 100 per cent for three-wheelers, and from 61 per cent to 100 per cent for two-wheelers. There was another round of excise duty hike, too, about four-five months ago.
Companies such as Tata Motors, Mahindra & Mahindra, TVS Motor Company, Hero Motocorp, Bajaj Auto and Maruti Suzuki, for whom Sri Lanka is a key export destination, are experiencing a significant slowdown in demand following the import duty hikes, which have made their vehicles very expensive in the island nation. Tata Nano, for instance, has nearly doubled its price since its launch.
From the launch price of LKR 9.25 lakh (Rs 3.8 lakh) cost of the Nano has gone up to LKR 15.50 lakh (Rs 6.63 lakh) in Sri Lanka. Similarly, the Tata 207 used to cost LKR 14 lakh (Rs 5.98 lakh). However, after the tax increase, the price has increased to LKR 25 lakh (Rs 10.69 lakh).
A Tata Motors spokesperson said, "We cannot express a view, except to say that for Tata Motors, Sri Lanka was the first country, after India, starting in 1961. For the last 50 years, the company has had an uninterrupted association with Sri Lankan customers. In the last year, increase of excise and customs duties in Sri Lanka (in April and November 2012) has impacted exports of automobiles - passenger vehicles and commercial vehicles - out of India. In some cases, prices have doubled. Tata Motors, too, has been impacted."
An executive of Dimo Lanka, the exclusive dealer and importer of Tata Motors vehicles in Sri Lanka, concurred the views. "Imports of Tata cars are happening, but ever since the taxes were increased, sales of Tata 207 and the Tata Nano have gone down substantially. Enquiries are still very healthy but when consumers discover the price their enthusiasm goes down," he said.
According to a Morgan Stanley report, after import duties were hiked last year, exports of Bajaj Auto to Sri Lanka dropped "from 20,000-22,000 per month in the last quarter of last financial year to around 8,000-10,000 a month by the end of first quarter of this financial year".
Pawan Goenka, president (automotive and farm equipment service) Mahindra & Mahindra said, "Our volumes have been affected very badly because of the increase in import duty. And it has impacted a certain specific models not across the board."
Sri Lanka, with a gross domestic product (GDP) increase of 6.3 per cent in the quarter ended December, is one of the promising markets for automobile players. Indian auto labels have a lion's share of the Sri Lankan automotive market, led by Bajaj Auto with 60 per cent share.
Last year, India had exported vehicles worth $6 billion, out of which automobiles worth $800 million were to Sri Lanka.