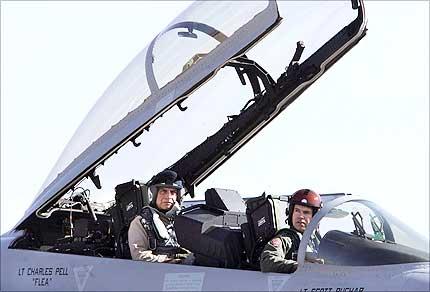 A day after joining the elite league of the oldest Indians to fly a fighter jet, Tata Group chairman Ratan Tata on Friday went a step further by flying a Boeing F-18 Super Hornet combat aircraft at the Aero India show in Bangalore.
Tata took to the skies again on the Super Hornet as a co-pilot for a one-hour flight early this morning from the Yelahanka airforce station, within 24 hours of a sortie on an F-16 jet on Thursday.
"It was a terrific, terrific ride. I really enjoyed today's flight," he said.  "I just flew it in the air for a short while. Not very many manoeuvres," Tata said adding he 'really' got the feel of the plane both at high speed and low speed.
Today's flight was commandeered by Lt Cdr Dodd Nelson, an ex-pilot of the US Navy. The 69-year-old industry icon had on Thursday flown a Lockheed Martin F-16 fighter aircraft in a flight that lasted 35 minutes, becoming one of the oldest Indians to fly a fighter aircraft.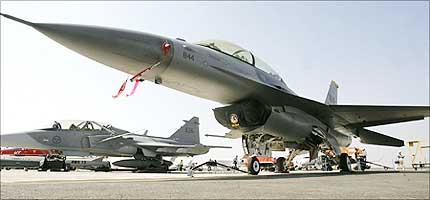 He had termed Thursday's sortie as an "unbelievable experience". Tata flew as co-pilot of a jet commanded by Paul Hattendorf, a test pilot of Lockheed Martin, the aircraft's manufacturer, which is believed to be eyeing a lucrative tie-up with the Indian business empire.
"Given a chance, I would love to fly again," he said.
Photographs: Dibyangshu Sarkar/AFP/Getty Images