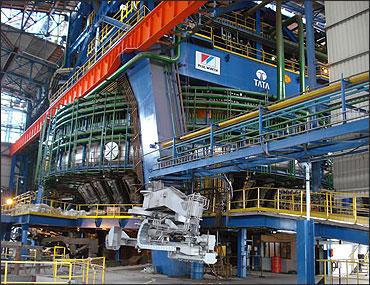 Steel producer Tata Steel Ltd's first quarter consolidated net profit slumped 70 percent, hurt by provisions for impairment of non-core assets and a higher tax expense.
The company posted net income of Rs 337 crore (Rs 3.37 billion) in the three months ended June 30, compared with Rs 1,139 crore (Rs 11.39 billion) a year earlier.
Net sales jumped 11 percent to Rs 3,6143 crore (Rs 361.43 billion), helped by an increase in European demand.
The company's management has intensified cost cuts and focused on high-margin products to boost sales at Tata Steel Europe, which contributed close to 57 percent of the company's total steel production last year.
(Reporting by Aman Shah in Mumbai; Editing by Biju Dwarakanath)