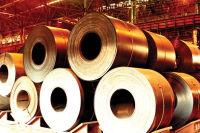 Tata Steel on Wednesday said it will invest 8 million pounds (Rs 58.86 crore) at its Clyderbridge plant in Scotland, part of its European operations, to double the output of high strength steel plate to 3,200 tonnes a week by 2012.
"The investment...will boost the output from the specialist plant by up to 50 per cent and lead to the creation of about 26 new jobs," Tata Steel said in a statement.
This is the second major investment in Scotland by the global giant, following announcement of 8 million pounds investment at Dalzell plate rolling mill in August, 2010.
"This investment supports our ambition to focus on making premium products for profitable markets. The Clydebridge plant specialises in producing difficult-to-make high-strength steels used in some of the most challenging environments around the world," Jon Bolton, Director, Long Products Hub, Tata Steel said in the statement.
The specialised steel plates by the plant is used in the mining and energy exploration sectors - underground mining structures, on offshore oil and gas platforms and in yellow goods - cranes, excavators and dumper trucks.
The majority of Clydebridge's products, made through quenching and tempering processes involve heating the steel plate to up to 1,000 degree celsius
before cooling it, are exported.
Bolton said increasing the capability at Clydebridge will help the company to maximise the value of the product and make business more competitive and sustainable.
Colin Timmins, Works Manager of the Clydebridge and Dalzell Steelworks. said: "...this investment is a reward for the innovation and flexibility they have shown".
The steel processed at Clydebridge is manufactured in Scunthorpe, North Lincolnshire, before being rolled at one of Tata Steel's two UK plate mills - Scunthorpe or Dalzell.
The company said recruitment at Clydebridge will start "next spring prior to the expanded capacity coming on line in summer 2012. The plant's capacity will increase to 3,200 tonnes per week".
About 100 people are currently employed in Clydebridge, with a further 230 in Dalzell.
The European operations of Tata Steel, formerly known as Corus, comprise Europe's second largest steel producer.
With main steelmaking operations in the UK and the Netherlands, they supply steel and related services to the construction, automotive, packaging, material handling and other demanding markets worldwide.
Tata Steel is one of the world's top 10 steel producers and the group has an aggregate crude steel capacity of more than 28 million tonnes and about 80,000 employees across four continents.