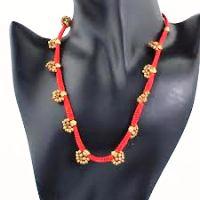 Anwesha, a non-governmental organisation, has been working among the craftsmen of Nayyapalli village near Bhubaneswar, Odisha.

The biggest challenge before the NGO was to find a market for the handicrafts made by the community.

Craftsvilla.com, an e-commerce company, opened up a new vista for them: It tied up with the NGO.

Now, the portal helps Anwesha sell 20-30 dokras -- artefacts made using 4,000-year-old wax casting technique -- a month.

Craftsvilla.com provides an interface to about 5,000 artisans across India to sell handicrafts, antique jewellery, tribal artefacs and ethnic products.

Manoj Gupta, who founded craftsvilla.com along with wife Monica, hopes to link six million craftsmen.

The Indian handicrafts industry, valued at Rs 43,000 crore (Rs 430 billion), remains largely fragmented and unorganised.

"The driving force behind the creation of craftsvilla.com is to aggregate the supply of crafts and use the power of internet to expose the beautiful culture and diversity," says Gupta.

Launched in January 2011, the company had raised about $1.5 million (Rs 9.2 crore or Rs 92 million in current valuations) from two global funds, a Lightspeed Venture Partners and Nexus Venture Partners.

The early days
The idea to set up the portal came up during a road trip the Guptas went on to Kutch from Mumbai in 2010.

After witnessing the sheer diversity and styles, they decided to "create a platform to showcase" Indian crafts to the world.

Milan Sheth, partner, Advisory Services, Ernst&Young, says: "I believe that online medium has a lot of value to add to the fragmented industry.

"You have a few players like India Mart, doing business-to-business transactions." How it works

Ashraf Hussain Khatri sells bandhani and other handicrafts from Bhuj, Gujarat. He employs about 400 artisans, including women.

A large number of women work from home.

"We are able to sell about four sarees online through craftsvilla.com every month. But, apart from immediate sales, it has enabled us to expand the market for bandhani.

"Now, we get enquiries and orders from new markets such as Tamil Nadu, Kerala and Goa," says Ashraf.

Vendors like Ashraf get the contents and photographs of their products managed by IT professionals.

The sellers also have to take care of carting of the products, as the portal is not into logistics and shipment.

The payment gateways are controlled by the website, which takes a cut from the price of each item sold.

There is no option of cash on delivery.

"It's not viable with the marketplace model.

"The return rate of the products is 30-40 per cent," says Manoj.

Even discount coupons and special offers are generated and controlled by the vendors themselves.

About 30-35 per cent of its sellers are based in metros, another 30 per cent living in semi-urban areas such as Bhuj and Saharanpur, and the rest are medium scale manufacturers.
Brass sellers of Moradabad and handicraft dealers of Jaipur are clients of the portal.

The promoters are planning to expand it to Tier-II and III cities.

Opportunity

The entry of e-commerce in the handicrafts sector has raised hopes of empowerment of craftspersons, giving them freedom to choose buyers who can offer them higher prices.

Craftsvilla.com's business model has limitations.

That sellers have to take care of the content and pictures on the portal snatches from them the opportunity to directly associate with the business.

Experts say it's only in terms of volume that craftsmen can benefit.

The wholesale dealers continue to get increased returns.

But, Gupta, an electrical engineer from IIT Bombay, says with the intervention of e-commerce, handicrafts sector can make it big.

"There are models like Fab India and others but they have limitations in terms of reach," says Gupta.

Experts agree that the sector is yet to see a major player.

"The biggest opportunity is to link the fragmented buyers and sellers and e-commerce gives the industry the buyers," says an analyst.

Also, the marketplace model gives sellers a better option to showcase their variety.

The funding

"The good part about Craftsvilla's model is that it's playing in a large market and is capital efficient.

"Also, it's a technology company that is asset-light and profitable," says Anshoo Sharma, Principal, Lighspeed Venture Partners, which invested in Craftsvilla in 2011.

Sharma agrees that the fact that Craftsvilla doesn't directly control product description and packaging might affect consumer experience.

However, the technology tools and consumer feedback provided to merchants on the platform helps them improve.

Eventually, Craftsvilla is creating a free marketplace that provides an opportunity for the best merchants to grow quickly, he argues.

He hopes to continue the engagement with Craftsvilla.

The investors also expressed keenness to invest further.

Vendors and artisans have to walk the extra mile to retain consumer interest. "The Indian customer is driven by value unlike the US customer, who is driven by impulse.

"And, the key to create value is the content.

"It is important for the growth of the website," says Arjun Basu, co-founder and CFO, Mydala.com, one of the leading mobile couponing platforms.

Revenue model

Craftsvilla takes a commission of 20-23 per cent on the cost of each product sold.

The fee is inclusive of the shipment cost. Craftsvilla claims it's operationally profitable. It also claims to have earned Rs 1.2 crore (Rs 12 million) with one per cent profit after tax in this quarter.

It doesn't charge vendors for displaying their products. But, in the case of NGOs like Anwesha, Craftsvilla takes care of carting.

Challenges

Experts say Craftsvilla faces two major challenges.

First, most of the craftsmen are illiterate and they depend on wholesale dealers, who have the resources, to take care of content management and delivery.

"I agree that the direct benefit to the craftsmen may be limited, but the sheer increase in the volume of orders will increase their profit margins," says Sheth.

Second, there could be variations in customer experience because of no uniform policy on suppliers and packaging.

Mana Agarwal, CEO and co-founder Naaptol.com, argues that careful packaging becomes all the more important in the current logistics scenario, where the goods are handled without due care.

"Packaging does not add value but preserves the current value of the product," says Agarwal.

Sheth says: "It becomes a bit of technology play: The big dealers get more display and the smaller ones are often left out.

"This becomes crucial in business like Craftvilla which deals with small industry like handicrafts."

Fact box
Sells Indian handicrafts online
Has a network of 5,000 sellers across India
Earned a revenue of Rs 1.2 crore this quarter
Works on a thin model, merely employing 8-10 people
Expert take
Craftsvilla.com has great potential, simply because of its pricing principles and product lines.

There is a major demand among NRIs for original Indian hand-crafted items.

A major chunk of the business is expected to come from the foreign market and this is a core expansion strategy.

The site is not restricted to jewellery and offers home furnishings as well.

With timely funding, Craftsvilla's potential will only grow.

The demand for Indian handicrafts is huge.

It's a good blend of unique, authentic and traditional art.

We see handicrafts often displayed as part of high-end luxury stores, making these aspirational, when, ironically, it is easily available.

Craftsvilla.com is effectively bridging the gap, providing a platform to sell the art at a reasonable cost.

The marketplace model is an upcoming successful one in the e-commerce business.

Merchants can directly sell products online for a percentage of the sale or a listing fee.

The model doesn't require much capital or infrastructure for storage of products.

It directly connects the merchant to the consumer.

E-commerce is probably one of the most effective ways to open the handicrafts industry to the world.

The handicrafts are being sold at tourist destinations and cities at high prices.

Craftsvilla.com removes the middleman and lets the artists sell their products.
Manmohan Agarwal, co-founder and CEO, Yebhi.com
Photograph, courtesy: www.craftsvilla.com