Wind energy turbine maker Suzlon's founder-chairman, Tulsi Tanti, took a steep cut of Rs 1.46 crore (Rs 14.6 million) in compensation, as the company incurred losses last financial year.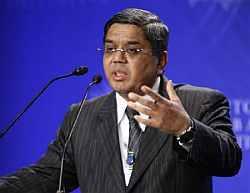 Tanti, also an executive director, saw his yearly pay packet shrink by 73 per cent, or Rs 1.46 crore, last year and took home just Rs 53.76 lakh, according to Suzlon's annual report. He was entitled to receive a compensation of Rs 2 crore (Rs 20 million).

Suzlon, one of the major players in the global wind turbine market, is grappling with stiff competition and adverse economic conditions that are hurting its business. "Since the company has incurred losses for the financial year 2011-12, the excess remuneration...Has been recovered from the executive directors," the report said.

He took home an annual salary of Rs 48 lakh and retirements benefits worth Rs 5.76 lakh owing to the losses incurred by Suzlon. Tanti also surrendered his gratuity last financial year.

Tanti was to receive little over Rs1.84 crore (Rs 18.4 million) as salary in addition to retirement benefits of Rs10.8 lakh and gratuity of Rs4.32 lakh, says his service contract, valid till March 2014.

Another executive director, Vinod Tanti, also saw his compensation fall by Rs66.24 lakh in 2011-12. Vinod was paid Rs 48 lakh as salary and Rs5.76
lakh as retirement benefits. He, too, did not receive any gratuity.
He was entitled to get little more than Rs1.10 crore (Rs11 million) as salary. The retirement benefits and gratuity payouts were to be Rs 6.48 lakh and Rs 2.59 lakh, respectively.
Vinod ceased to be an executive director from June 1, 2012 but continues as a non-executive director. In the financial year ended March 2012, Suzlon posted a net loss of Rs 479 crore (Rs 4.79 billion), while the revenue from operations stood at Rs 21,082 crore (Rs 210.82 billion) during the same period. It had a cash profit of Rs 418 crore (Rs 4.18 billion).
Tanti, in his letter to shareholders, said the "negative profit after tax" was primarily due to high interest rates, forex losses, deferred tax and other non-cash items.
The company's net debt touched Rs 11,165 crore (Rs 111.65 billion) at the end of March, 2012.
Tanti noted that Suzlon has an order of more than Rs 41,500 crore (Rs 415 billion) that provides "clear visibility into FY 2012-13 and beyond".
Suzlon, which has presence in 33 nations, expects to rake in revenues of Rs 27,000 to 28,000 crore (Rs 270 to Rs 280 billion) this financial year, representing about 30 per cent annual growth.
Image: Tulsi Tanti