The S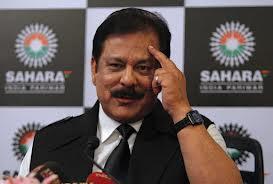 upreme Court on Thursday allowed the Sahara Group to approach its creditor Bank of China for selling equities in three offshore hotels to raise money that can help its jailed chief Subrata Roy get bail.
The court, however, reserved its order on a fresh plea of Roy seeking modification of an earlier order by which he was asked to pay Rs 5,000 in cash besides a bank guarantee of an equivalent amount.

Sahara, in its fresh proposal, said it would like to deposit Rs 3,000 crore (Rs 30 billion) cash in five days and another Rs 2,000 crore (Rs 20 billion) in cash in the next 30 days thereafter.

The group would be furnishing a bank guarantee for the rest of Rs 5,000 crore (Rs 50 billion) in 60 days after selling its equities in hotels, one in London and two in New York, the group said.

The bench of justices T S Thakur and A K Sikri, which has been constituted after Justice J S Kehar recused from hearing, said Saharas would be communicating with Bank of China, which had lent money to it for purchasing substantial equities in offshore hotels and file an affidavit within a week about the outcome of the communication.

"We are inclined to allow you to sell the nine properties (listed by the company).

"We are also inclined to allow you to mortgage the Ambey valley for raising the money," the bench said at the fag end of the over three-hour-long hearing.

Earlier, the bench had asked the Sahara, who is in jail since March 4, to pay Rs 5,000 cash and furnish a bank guarantee of Rs 5,000 crore as pre-condition for his release.

ZCZC Senior advocate Rajiv Dhawan, appearing for Saharas, said that it was quite 'improbable' to arrange the bank guarantee without selling its shares in the offshore hotels and the group has communicated with its lender Bank of China in this regard.

"However, there is nothing on record to suggest that Sahara has taken up the matter with the Bank of China," it said, adding that a communication shall be addressed to the bank seeking its approval to proposed sale of equities in the hotels.

The bench, which was informed that certain shares have been pledged with the bank in lieu of the loan advanced, said the Bank of China is requested to furnish, within a week, its outstanding payable by Sahara, besides providing the valuation report of the properties.

The bench was informed that the Saharas' stakes in these hotels worth over Rs 11,000 crore and the loan amount, payable by it to the Bank of China, is around Rs 5,000 crore (Rs 50 billion).

During the hearing, Dhawan said Sahara is the main decision maker and it will be quite 'improbable' to strike a deal for arranging the money and hence, he can be put under house arrest outside a jail at his expense.

The counsel for SEBI, however, opposed the plea saying this prayer has been declined several times in the past.

"You cannot have it both ways. You are demanding the money and want him to be disabled from raising the money," the bench said.

"We are out of business for last 10 months as a consequence of the order of this court. Sahara is in jail for last three months," the senior lawyer said, adding that if Sahara is kept inside the jail then the group may not be able to discharge its liability.

The newly-constituted bench also wanted know from Securities and Exchange Board of India about the fate of the money, to be deposited by Saharas, in the backdrop of the claim that depositors' have already been paid back.

"Absurdity may be obvious, but somebody will have look into the claim that money has already been paid to depositors.

"Somebody will have to ascertain as to whether this is black money or some ill-gotten money . . . . tell us under which law it will go to the Government of India," the bench said, adding the firms have been saying that it has provided you 40 trucks of documents in this regard.

"There have been very few depositors," the counsel for Sebi said.

Earlier, the court had asked the Sahara Group to come out with a 'logical' and 'acceptable' proposal on paying Rs 10,000 crore (Rs 100 billion) for getting its chief Subrata Roy out of jail.

It had said the stalemate won't help anyone and asked the group to come out with a fresh proposal.

The 65-year-old Roy, who has been in jail since March 4 for non-refund of over Rs 20,000 crore (Rs 200 billion) to depositors, was asked by the court to make a fresh proposal for paying Rs 10,000 crore to get bail.

The court had passed the order on a petition filed by Roy challenging constitutional validity of its order passed on March 4 by which he was sent to jail for not complying with its order to deposit around Rs 20,000 crore (Rs 200 billion) of investors money with Sebi.

The bench in a strongly-worded judgement had come down heavily on the group for 'systematically' frustrating and flouting all its orders with impunity on refunding investors' money.

It had said Sahara 'adopted a demeanour of defiance constituting a rebellious behaviour, not amenable to the rule of law' and justified its decision to send Roy along with two promoters of two Sahara companies to jail.
Image: Sahara chief Subrata Roy; Photograph: Reuters