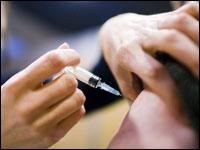 Sun Pharmaceutical Industries on Tuesday said it has received US health regulator's approval to market generic version of Doxil injection, used in treating ovarian cancer in the American market.
The Mumbai-headquartered firm, in a statement, said its subsidiary has received approval from US food and Drug Administration (USFDA) for its Doxorubicin HCl Liposome Injection.
"This generic Doxorubicin HCl Liposome injection USP, 2 mg/ml is therapeutically equivalent to Doxil Liposome Injection, 2 mg/ml of Janssen Research and Development, LLC," the company said.
Doxorubicin HCl liposome injection is used to treat patients with ovarian cancer that has progressed or recurred after platinum-based chemotherapy.