Indian online supermarkets seem to be going the Amazon way in expanding their presence. Online start-ups such as LocalBanya.com, BigBasket.com and AaramShop.com are looking to move from their home turf to multiple cities to tap local markets.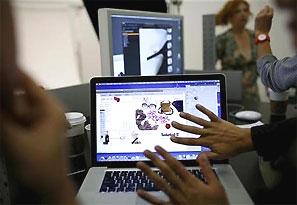 The US online giant recently expanded its grocery supplies to California from Seattle in a bid to break open grocery market there. It is expected to spread the business further across the US.

Mumbai-based LocalBanya is looking to expand to Pune and Delhi as part of its growth strategy. It is likely to raise money from venture capital funds soon.

Similarly, Bangalore-based BigBasket.com, which is also present in Mumbai and Hyderabad, may add two cities this year — Delhi and Chennai — being its main targets. BigBasket wants to be present in 10 cities by the end of 2014.

Aaramshop, which allows kirana shops and retail chains to not only list their contact details on its website but also sell products through the site, is going a step ahead and planning to have presence in Karachi, Pakistan. It aims to grow from the current 30 cities to 40 cities by March 2014 and have 30,000 retailers on its site from 3,000 retailers now.

Business model
All the three ventures follow different business models. For instance, LocalBanya follows 'just in time' delivery where it aggregates orders on its site and buys goods in the evening and delivers them next day. It has suppliers such as German wholesale company Metro Cash & Carry, among others, and manages its logistics and supply chain itself.

Currently, it handles 200 orders a day and average ticket size ranges from Rs 1,300 to Rs 1,500 per order. Its speciality: vegetables such as French Purple Cabbage and kafir mint leaves.

"Even for big retailers, it is difficult to cater to niche vegetables and fruits. Our shoppers can also buy groceries apart from specific vegetables," says Nitin Mukadam, director at MN&C Supply Links, the operating company of LocalBanya.com.

"The grocery market in India is in many lakhs of crores (of rupees). Even if we achieve 0.5 per cent of that, we are happy," says Mukadam. The year-old company is looking at a business of Rs 23 crore this year and looking for cash break-even in one or two months.

Mukadam claims the business has less than two per cent returns despite "no questions asked policy".

Bangalore-based BigBasket.com takes pride in the "same day delivery" of products such as frozen and chilled items from its own cold storages and warehouses.

The portal does 1,500-2,000 orders in Bangalore, which translates to Rs 25 lakh (Rs 2.5 million) a day or Rs 7-8 crore (Rs 70-80 million) a month. It is seeing a growth of 20 to 30 per cent growth in Bangalore and looking at a break-even in next couple of months and making profits in Mumbai and Hyderabad in the next nine-10 months.

"We do not have overheads such as rents, power, etc. In places such as Mumbai, rents will kill you. We need just two-three warehouses to cover the entire city," says Vipul Parekh, founder and chief marketing officer at BigBasket. AaramShop.com helps kiranas and other retail chains to have web fronts on its website, which are replete with their addresses and contact details. Customers then can contact the retailers for their needs. AaramShop also helps shoppers to create their own shopping lists on the site, which are sent to the chosen retailers via SMS or email.

Although basic service is free for retailers, Aaram charges a fee if they want to advertise their offers or run customer programmes on its site. It offers data analytics to brands on what shoppers are shopping and help them target specific marketing or run offers for them. AaramShop is doubling its business every quarter and looking at a break-even by the end of this financial year, says Vijay Singh, managing director.

The portal may add medical supplies to the business, wherein the customer needs to attach a scanned copy of prescription, which will be sent to retailers.

Potential and challenges
According to experts, online grocery retailers have huge potential if the firms maintain proper supplies and manage their inventories properly.

"It can be a good business model if you manage the supplies properly. In groceries, customers do not bargain and mostly they are standard products. You have to just coordinate between one warehouse and another," says Prashant Agarwal, joint managing director of Wazir Advisors.

However, the area is not without its challenges. Money, manpower and management are the biggest challenges, say the people involved in it.

"Today, half the people in the industry are poached from us. It hurts. But we have to live with it," says Mukadam of LocalBanya.com. "We are continuously recruiting people and training them to meet this challenge. Though we are an online company, we need significant investment to run the business," he adds.


Buying groceries on the Net

In online supermarkets such as Localbanya.com, customers can browse items and select size and quantity to add to their cart. Once done, they can place orders online. Customers need to select a day and time slot, and a delivery mode. They can order stuff like grocery, beverages, personal care products, baby products, frozen items and so on. Big Basket also follows a similar model.
Mumbai-based LocalBanya is eyeing Pune and Delhi; it plans to raise funds from venture capitalists
Bangalore-based BigBasket.com plans to add two cities this year; Delhi and Chennai are its main targets. Plans to add 10 cities by 2014-end.
Aaramshop looks to expand in Karachi in Pakistan and is looking to grow from 30 cities to 40. It plans to have 30,000 retailers by March 2014.