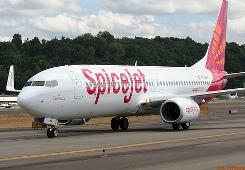 Sun Group-owned SpiceJet is the first Indian aviation company to begin a pilot project to directly import aviation turbine fuel.

Sources aware of the development said as part of the project, the airline had signed an agreement with Reliance Industries Ltd, which would extend quality control services at its coastal terminals for ATF imported by the airline.

"ATF was pumped in the tank a few days ago.

"We bought fuel from another importer but eventually, we will import it ourself. It is not practical for us to create infrastructure.

"We only need the ATF. We hope direct import will save our costs by about 10 per cent," said a SpiceJet executive.

He added the airline had tied up with RIL for technical support, including fuel testing and quality and safety issues.

The airline hopes it would eventually import 15 per cent of its fuel requirement.

Importing ATF would also help the airline save sales tax of 20-25 per cent of the fuel rate.

An RIL spokesperson declined to comment on the issue.

SpiceJet did not reply to an email questionnaire.

Under the
pilot project, the imported ATF is being stored and tested for quality at a private tank at the Kochi port.
Subsequently, it is carried in trucks or tankers to a common fuel tank at the Kochi airport.
The airline pays rent for the use of storage tanks.
State oil marketing companies import crude, process it locally and distribute it to airlines across the country.
This requires infrastructure such as storage tanks and pipelines, as well as trucks and tankers. SpiceJet is not investing in infrastructure.
Instead, it has tied up with a private company owning a storage tank at the Kochi port. Eighteen months ago, the government had allowed airlines to directly import fuel and save on value-added tax.
However, progress on this front was slow; other airlines haven't availed of the facility yet, owing to lack of infrastructure.
Sources said IndiGo Airlines was in talks with Indian Oil Corporation to import ATF.
This month, ATF prices rose seven per cent to an all-time high of Rs 75,000/kl, owing to rising crude oil prices and the rupee's depreciation. Fuel accounts for about 40 per cent of an airline's operating costs.
Domestic ATF prices are higher because of 20-25 per cent value-added tax imposed by key states.