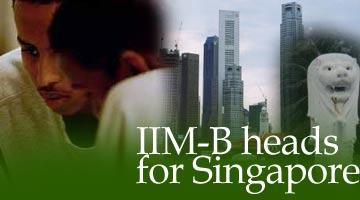 Brand IIM-B (Indian Institute of Management, Bangalore) is going global this year.
IIM-B, the first amongst the IIMs to go abroad, has tied up with the Indian International School run by the Bharatiya Vidya Bhavan in Singapore to set up a branch.
The school has provided a three-storey building in its complex, which will house the IIM-B. Classes at IIM-B Singapore are expected to begin from July this year.
Bhavan's Indian International School is one of Singapore's leading international schools that provides a one-stop kindergarten-to-Standard XII education based on India's Central Board of Secondary Education (CBSE) and Switzerland's International Baccalaureate education.
The school has about 1,200 students from India, Australia, Korea, Sweden, the Netherlands, Malaysia, the United States and Singapore.
Prakash G Apte, IIM-B Director, made a presentation before the Indian expatriates in Singapore on why the Indian business school is setting up its first offshore branch.
An official at IIM-B told rediff.com that IIM-B's first international branch in Singapore would be basically its Research and Management Education Centre.
"All the faculty members will be from the IIM-B. We have already designated a few professors to steer the Singapore venture," he said.
The tie up with the Bhavan's School is very 'tactical in nature,' he said. "A large number of Indian students who pass out of schools and colleges in Singapore have been seeking admissions in our institute. Our target now is the Indian expatriate student community," he said.
Also, according to a survey that IIM-B conducted in Singapore, a large number of Indian professionals working in the city are eager to join for a variety of courses that IIM-B plans to offer.
So IIM-B and the Bhavan's School invited a number of Indian professionals for Apte's presentation.
"I am eager to join the IIM-B. Let me listen to them and see what courses they want to offer," says Abhay Mathew, an Indian finance manager working in a Singapore firm.
Initially, the IIM-B campus in Singapore will have a capacity of around 600 students. Singapore may be just the beginning for IIM-B that made it to the Wall Street Journal's list of the top 100 business-schools globally in 2003.
It is also chalking out plans to foray into other countries as well. Bangalore-based education consultant Srinivasa Raju who heads the Global Education Resources points out that Singapore is going to be a test case for the IIM-B.
"The success of IIM-B in Singapore will decide whether it or other Indian schools should go to European countries and the United States," he said.
Consultants like Raju argue that there is a growing demand from countries in the South Asia, West Asia and Southeast Asia for Indian education because they are fascinated with the brand equity of India's Indian Institutes of Technology and IIMs.
"Singapore is the best bet when it comes to testing one's competitive edge in higher education. Moreover, Singapore also has a large Indian Diaspora," Raju said.
Other countries that are queuing up for the IITs and IIMs include Sri Lanka, Malaysia, Mauritius, the United Arab Emirates and other West Asian nations.
Experts say that these countries, which have a low level of science and technology activity, are captivated by the IITs and IIMs as they feel that the Indian schools could be a stepping-stone to their educational, management and scientific advancement.
A recent estimate by the Global Alliance for Transnational Education indicates that about $27 billion worth of higher education is exported to Asia and Pacific by three countries -- the United States, the United Kingdom and Australia.
A business of $37 billion trade in tertiary education services in Asia and Pacific region is projected in future.
Experts like Raju suggest that institutes like IIM-B have a huge potential to tap this market in Asia, which is now with the US and other countries.
Established in 1973, IIM-B has evolved into a premier centre for management education and research in the country.
The flagship Postgraduate Programme in Management and Fellow (Doctoral) Programme in Management at IIM-B are very highly rated.
The IIM-B alumni hold senior managerial and academic positions across the globe.