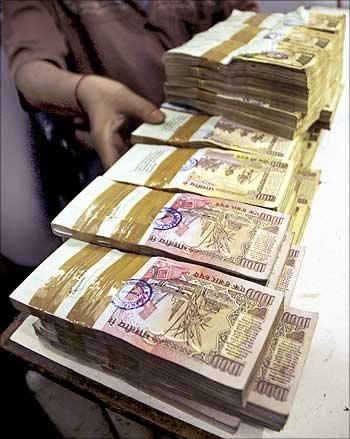 Stating some consolidation in the banking system was inevitable, Finance Minister P Chidambaram on Saturday said India must have two or three world size banks.
"Finding new business models will inevitably lead to some consolidation. We should not fear consolidation. I know there is pride and identity, but ultimately some consolidation would have to take place in the banking system in this country," he said at the Bancon-2012 meet.
"We must create at least 2 or 3 world size banks. China has done it. And if India wants to be and as it will be the third largest economy in the world...we must also have one or two world size banks and some consolidation is inevitable," he said.
Chidambaram further said that while consolidation takes place among top banks, there would also be place for local area banks.
"In fact, I regret that the idea of the local area bank which was started in 1996 stopped after first three licences were given. I think there is place for a local area bank for serving people of the region, local area, drawing strength from those people and serving those people, he added.
Country's largest lender State Bank of India (SBI) has acquired board approval for the merger of the its remaining five associates with itself. It has already amalgamated two of its subsidiaries.
SBI merged one of its associate, State Bank of Saurashtra, with itself in 2008 besides merging itself with State Bank of Indore in 2010.
At present there are five associate banks of SBI. Two of them are fully owned, State Bank of Patiala and State Bank of Hyderabad, while remaining three, State Bank of Mysore, State Bank of Travancore and State Bank of Bikaner and Jaipur (SBBJ), are not 100 per cent owned and listed at the bourses.
Meanwhile, the Finance Ministry had recently asked large public sector banks (PSBs) to hand-hold smaller counterparts to improve the latter's functioning.
It has divided banks in seven pools, with a large bank appointed coordinator for each group, to improve internal policies and procedures.
The banks have been asked to continuously interact and work collectively on issues such as human resources, e-governance, internal audit, fraud detection and protection, recovery, asset-liability mismatch and business process re-engineering.
Talking about new business models, Chidambaram said "may be because there is a regulator and there is a Department of Financial Services", that there is an unintended tendency among banks to stress on uniformity.
"I am opposed to uniformity. I don't think one banks should be or can be clone of another bank. It will be a tragedy if we have got 19 clones (nationalised banks) in this country," he said.
He asked every chairperson of a bank to be a different banker, running a different bank and not become a clone of each other.
The Finance Minister also assured the bank CMDs and boards that government will encourage them to follow new business models.
"I assure you on behalf of the government, that the Department of Financial Services will not attempt to impose any uniformity on banks. And as long as I am Finance Minister, I assure we will allow board of directors of each bank to innovate and to follow different model and different path," he said.
"RRBs (regional rural banks) are meant to serve a very different purpose, achieve very different objective, and serve a very different clientele. Why should RRBs be a clone of the parent bank. I think we must distinguish between the bank and RRBs," he said.
Stating that the economy is in a slowdown mode, he said the economic growth is expected to be 5.5 per cent in the second quarter.
"I attach greatest importance to the banking sector, I devote a lot of time to learn about, to understand and to work with bankers," he said.
"Every time I meet with bankers I learn something new and I will continue to work with banking community in India. Because I genuinely and sincerely believe that banks represent the heart of the financial system and it is banks that will drive the revival of India's economy and putting India' economy on high growth path," he added.