India now faced a higher likelihood of a drought in some parts, as monsoon rain would be less than predicted in April, private weather forecaster Skymet said on Friday.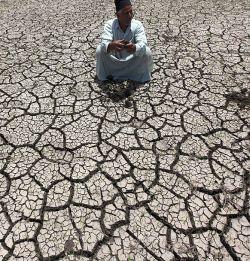 It said the probability of a drought now stood at 60 per cent, against its April estimate of 25 per cent. It added the chance of a drought was highest in the northwest weather zone (80 per cent), followed by central India (75 per cent) and the south (50 per cent).
According to Skymet, the 2014 monsoon is likely to deliver 91 per cent of the average rainfall of the past 50 years, against its earlier projection of 94 per cent, both considered sub-normal. The forecast has a model error of four per cent.
"The rainfall figure of 91 per cent for the country as a whole is worrisome. If this margin tilts towards the negative side and goes to minus four per cent, the chances of a drought in the country are very high, about 60 per cent," Skymet said.
It said a majority of subdivisions of northwest India (Gujarat, Saurashtra, Kutch, Punjab, Rajasthan and Haryana), west central India (Madhya Pradesh, Marathwada, Vidarbha, Madhya Maharashtra, north interior Karnataka, Chhattisgarh and Telangana) and south India (Kerala, Tamil Nadu, Karnataka, Rayalaseema) would get less rainfall during the whole season. Some parts might face severe drought.
Skymet lowered the chances of a normal monsoon from 34 per cent to 10 per cent. Rainfall in the range of 96-104 per cent of the 50-year average is considered normal.
Kharif sowing until last week was around 34 per cent less than in 2013, with a major impact on rice, pulses and coarse cereals.
In its second estimates in June, official weather forecaster India Meteorological Department (IMD) had also lowered its rainfall prediction to 93 per cent of the long-term average - the average of total rainfall received by the country in 50 years since 1951 - from its earlier estimate of 95 per cent.
Monsoon rainfall in June was 43 per cent below normal, making it the worst first month since 2009 and one of the worst in 100 years. However, rainfall has revived in the past couple of days in many parts of the country.
"The El Nino weather phenomenon is a major factor for lowering the forecast," said Skymet CEO Jatin Singh. He said there was not much change in the forecast for July and August, but June was the big drag. For September, Skymet now expects more rain than it had forecast in April.
El Nino, a warming of the Pacific Ocean that disrupts global weather patterns, has developed slightly but will peak in December.
Skymet said rainfall would be 93 per cent of the average in July. In April, the forecaster had said July rain would be 94 per cent of the average. It said the month had started off on a decent note, with rains in Mumbai, Delhi-NCR and other places.
In August, it said, rainfall would be 98 per cent of the average, the same as it had forecast in April, with 65 per cent chance of it being normal.
For September, Skymet said rainfall would be 98 per cent of the average, which is higher than the 90 per cent forecast in April, with a 65 per cent chance of it being normal.
The cumulative deficit might narrow in July, August and September, if there was good rain in the south, east and northeast. However, the regional deficit would still be large and chances of a drought high, Skymet said.
Water levels in most of the country's reservoirs have started dropping below last year's levels. Central Water Commission data showed water held in 85 major reservoirs across India was 83 per cent of last year's storage and 112 per cent the average of the past 10 years. Water levels in all regions were below last year's levels.
Please click here for the Complete Coverage of Budget 2014 -15