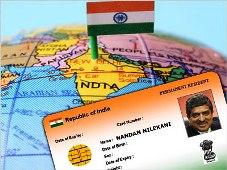 Nearly half of India's population would have the Aadhaar cards by 2014 and nearly one in three Indians by the end of this year, Chairman of Unique Identification Authority of India Nandan Nilekani said in Washington on Tuesday.

The ambitious project -- which has issued unique identification numbers to more than 380 million people, which is large than the population of several large countries in just a few years -- would still take a few more years before every Indian resident is issued with this unique number and the card having the biometric information of the individual, Nilekani told a Washington audience.

Delivering the Eighth Annual Richard H Sabot Lecture 'Technology to Leapfrog Development: The Aadhaar Experience' organised by Center for Global Development -- a Washington- based think-tank, Nilekani said UIDAI has leveraged the state of the art technology of the present days to provide unique identification number to every resident of the country.

"Today we have enrolled 380 million of the 1.2 billion people. Our daily processing is about a million people a day. Our goal is to reach 400 million this year and 600 million by 2014," he said, adding there are between 25,000 to 30,000
enrolment centers in the country.
Noting that this unique identification number is now becoming 'an internal passport and gateway' to various services for Indians, Nilekani said by working with various regulators they have ensured that this ID is sufficient to get their services.
It enables one to get services quick and hassle free, he said.
"People see this as a gateway to many services," he said, adding over the next few years he expects this to be used for different kinds of services including the ambitious direct cash transfer scheme of the Union government.
Nilekani said something like this could not have been done five years ago.
But a project of this scale has been made possible because of the technological development.
"In some sense we are piggybacking on mobile connections. Biometrics technology has reached a point of maturity. "And the arrival of small devices which allows us to provide this services to anywhere anytime," he said.
Responding to questions, Nilekani said that the same technology could be used for the entire global population.
"There is no technological limitation of having the whole world population on this system," he said.