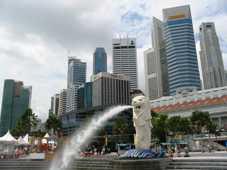 'Go as parents and return as children' entreats the new ad for Singapore Tourism Board, which has launched a customised and differentiated marketing campaign for India.

Focusing on Singapore's emergence as a 'city in a garden' the campaign throws the spotlight on its latest attraction, the acclaimed Gardens by the Bay, a park spanning 250 acres of reclaimed land in central Singapore, dominated by giant 25 metres to 50 metres tree-like structures that dominate the landscape.

"Gardens by the Bay are one of the latest attractions adding to our city's evolving landscape.

"We believe that the experiences offered in Singapore will continue to resonate strongly with the Indian travellers and draw them for repeated trips to Singapore," said Chang Chee Pey, executive director, South Asia, West Asia and Africa, Singapore Tourism Board.

The campaign says it recognises the Indian traveller's shift in preference, from sightseeing trips to engaging holidays that offer enriching experiences, allowing them to acquire new skills and knowledge while connecting with loved ones.

"Back in 2005 we had actually launched a very ambitious tourism master plan, where we aimed to double our tourist arrivals from 8 million to 17 million visitors and to triple our tourism receipts from 10 billion Singapore dollars to 30 billion Singapore dollars.

"Some fruits of our labour for the grand master plan have starting to show.

"India is the 5th largest in the context of tourist arrival in the country and the highest spender," said Chang Chee Pey, Executive Director, South Asia, West Asia and Africa, Singapore Tourism Board. These insights have enabled Singapore Tourism Board to collaborate with stakeholders to curate resonant experiences for the India market.

"We have integrated major projects like casinos, the world's first Formula One night race and of course our key project Garden by the Bay to attract visitors," said Pey.

Gardens by the Bay span over 101 hectares of prime land at the heart of Singapore's new downtown – Marina Bay.

The Garden comprises of three waterfront gardens: Bay South, Bay East and Bay Central.

"Gardens
by the Bay offer journeys into diverse botanical worlds, right on the equator. From the best of Singapore flora, to the cloud forest of tropical highlands, to the colourful blooms of Mediterranean-type climatic regions, visitors can now take a 'botanical holiday' and enjoy the natural wonders of faraway realms all in one place.
The Gardens brings the world of plants to Singapore, and in doing so, presents Singapore to the world," said Dr Kiat W Tan, chief executive officer, Gardens by the Bay.
A botanical garden masquerading as a theme park with cooled conservatories are touted as attractions.
Tourists can also walk around 18 "super trees" located in the Golden Garden, Silver Garden and Supertree Grove.
Heritage Gardens, The World of Plants, and the Dragonfly and Kingfisher Lakes should also be in the list of must visit list.
"Other unique highlights at the Gardens include changing floral displays in the Flower Dome, a specially choreographed light and sound show at the Supertree Grove, and a series of interpretive media and narratives that bring to life the story of plants.
"Completing the unique horticultural experience at the Gardens will be a host of lifestyle offerings including dining and retail," said Tan.
These 'Avatar' like supertrees are not just concrete and lights, but actually a vertical garden.
The big trunks are covered with 162,900 live plants comprising more than 200 species and varieties of bromeliads, orchids, ferns and tropical flowering climbers.
"These trees have their own irrigation system and water sprinklers and have photovoltaic cells on the top so that they can be lit up in the night for a light and sound show," said R P Jickky, who has designed the supertrees.
These vertical gardens are open 24 hours daily all through the week for visitors.
Tan further said attractions like a children's garden, a cactus garden and will be an open challenge to the local architects and experts to bring something new.
"We want to sensitise the youth about environment and nature and show them what we have lost-the disappeared species of plants, the various small creatures that lurk around in the garden and yet provide them with a comfortable environment to enjoy nature," he said.