The markets started the week on a promising note, with the indices bouncing back. However, as expected, the pull-back was short-lived. After scaling to a high of 19,061, the Sensex soon reversed direction and slipped into the red on a weekly basis. The selling pressure was so intense that the index tumbled to fresh a six-month low at 18,398 - down 671 points from the week's high. The index ended at 18,450, a loss of 386 points.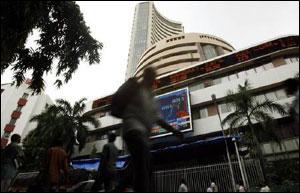 Among Sensex stocks, Bharti Airtel and HDFC fell about seven per cent each to Rs 271 and Rs 771, respectively. ITC, Bajaj Auto, Tata Motors, Sterlite, TCS, ICICI Bank and Hero MotoCorp were the other major losers. Maruti Suzuki soared 10 per cent to Rs 1,406, while Dr. Reddy's surged eight per cent. Sun Pharma and Wipro were the other significant gainers.
Last week, we had mentioned the Sensex seemed to be seeking support around its annual Fibonacci level of 18,500. Now, the index has broken the support and seems to be headed towards the 17,800-level. In between, the monthly and quarterly charts indicate support for the BSE index at 18,100 and 18,200, respectively.
For this quarter, the yearly and quarterly charts indicate strong support for the Sensex at 17,800-odd levels. However, a break of 17,800 could trigger a fall to 17,300-odd levels or a crash to 15,200-odd levels. Therefore, 17,800 is likely to be a key level for this quarter. Any pull-back from current levels would see the Sensex face resistance at 18,580-odd levels and at 18,830-odd levels.
The Nifty moved in a range of 220 points. From a high of 5,755, it plunged to a low of 5,535, ending at 5,553, a loss of 129 points. In the process, the Nifty broke its long-term (200-day) daily moving average for the first time since July 2012. The daily and the weekly charts look fairly bearish. Therefore, further downside looks likely.
Currently, the NSE index is seeking support around the 50-WMA (weekly moving average), which is at 5,543. Sustained trade below 5,543 would trigger a fall to its next major support - the 200-WMA (5,325). For now, it seems at 5,640, the 200-DMA is likely to act as an immediate hurdle for the Nifty on the upside. To sum up, the Sensex seems headed to its major quarterly and yearly support at 17,800. The Nifty has near support at 5,540 and immediate resistance at 5,640. On the downside, the index could slide to 5,325.