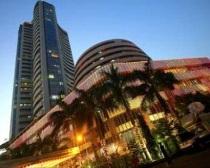 Markets ended with marginal gains, albeit off the day's high, as buying continued in metal and IT shares.

BSE Sensex touched a high of 16,213 after gaining steadily for most part of the day.

The Sensex edged up 119 points to 16,065. Nifty ended up 34 points at 4,812.

Asian markets recovered from day's low and ended on a flat note. Nikkei dropped 0.4% to 8,314. Hang Seng added 0.1% at 18,251.

Markets in Shanghai and Seoul were also flat.

Back in India, markets are likely to remain volatile for the next two days as traders roll over positions in futures and options segment on Thursday.

"A pullback is due. However, there would be fresh selling at higher levels, as the overall trend has turned negative for our markets.

"After the sharp decline, if the market pulls back, it will be a vicious pullback.

"However the immediate resistance is at 4,950 on Nifty. The key support is however at 4,720 levels," said Kunal Bothra, Technical Analyst, LKP Securities.

BSE metal and IT shares jumped. IT index moved up 2% at 5,585 as the rupee depreciated to a fresh 32-month low of 52.15 against the dollar on Monday.

A weak rupee boosts revenue of IT firms in rupee terms as the sector derives a lion's share of revenue from exports.

Heavyweight Infosys added 2.3% at rs 2,723. TCS and Wipro were up 1.8% each.

With the rupee falling to a lifetime low, Finance Minister Pranab Mukherjee said on Tuesday RBI intervention in the forex market will not arrest the slide as FIIs' pullout and global reasons were behind the depreciation.

Pranab Mukherjee also said that there is a chance that inflation will come down to 6-7%
by March end.
"The government is committed to bring down inflation to more acceptable levels. I hope to see the March end inflation between 6 to 7%", he said and sought suggestions from the members on how to tackle the issue.
Moreover, the Finance Ministry said it is awaiting the report of a parliamentary panel on the proposed Direct Taxes Code (DTC) for the new tax regime.
Metal index was up 1.5% at 10,227 as investors took to bargain hunting. Tata Steel added 2.7%. Hindalco and Sterlite advanced nearly 2% each.
Auto, oil & gas and banking shares were up in trades.
Market heavyweight, Reliance, was up 1% at Rs 795.
Reports suggest that the oil ministry may decide within a month on taking action against RIL for falling natural gas production at the D6 block in the Krishna-Godavari basin.
Tata Motors surged 7% at Rs 173 after losing as much as 11% in the last three days. The company has announced the launch of a new version of the Nano which is being projected as more fuel efficient and powerful.
Bharti Airtel was the top loser - down 2.5% at Rs 378.
The stock continued Monday's weakness after the Central Bureau of Investigation conducted searches at company's office in Gurgaon.
Tata Power, Mahindra & Mahidra, Bajaj Auto, ITC and Hindustan Unilever also declined marginally in trades.
Among other stocks, Pipavav Defence and Offshore Engineering will issue 81.9 million shares on preferential basis to an international strategic investor at not-less-than Rs 110 per share. Shares of Pipavav Defence was up 3% at Rs 58.15.
BSE market breadth was neutral.
Out of 2,889 shares traded, 1,354 shares advanced while 1,403 shares declined in trades.