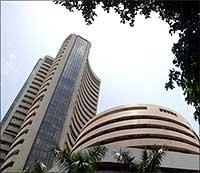 Markets surged higher today on bargain hunting and strong index of industrial production data.

A rally in banking and oil & gas shares pulled the Sensex up 266 points at 19,508. The S&P CNX Nifty ended 91 points higher at 5857.

Industrial output rose to 10.8% for the month of October 2010 on back of healthy performance in sectors such as automobile, electronic goods and power.

The IIP data gave fillip to consumer durables shares, which were battered on Thursday.

Videocon Industries surged 6.3%, Blue Star rose 6% and Titan Industries rallied 3.5% by close of trade on Friday.

"The investment activity in the economy has remained buoyant. However, the gradual moderation witnessed in the demand in the automobile segment, recently, might lead to some abatement in the consumer durables sector going ahead,"  Dr Arun Singh, Sr. Economist, Dun and Bradstreet India, said.

Capital Goods sector grew 22% in the month of October, analysts have advised that continued volatility in the capital goods number should be observed carefully before confirming a definite trend.

D&B expects the industrial activity to consolidate and remain at the average level of 9.0% during remaining months of FY11.

Analysts continue to bank on India's growth which will help markets to scale higher in the near term. Subhash C Agarwal, CMD, SMC Global Securities said, "continue to be bullish on the Indian growth story. The markets should consolidate in the next four five days. I expect the markets to climb back to the 20,000-level by year-end."

In world markets, investor optimism was curtailed in Asia on China rate hike expectations. China's exports and imports soared for the month of Novemeber, which ratched up pressure on the government to raise rates to tame inflation.

China's Shanghai Composite rose 1.1%, Hong Kong's Hang Seng Index shed 0.04%, Japan's Nikkei Stock Average was off 0.7%, Singapore's Straits Times Index fell 0.8%, Taiwan's weighted index slid 0.4%, and South Korea's Seoul Composite slid 0.2%.

Investors were cautious in Europe as well over China cool down as markets were trading only marginally higher. China raised reserve requirements for the banks by 50 bps after the markets shut in Shanghai.

Banking stocks which were badly beaten down on Thursday took an U-turn on bottom fishing. Axis Bank rose 6.6%, ICICI Bank surged 5.9% and Kotak Mahindra Bank climbed 4.5%.

Oil & Gas stocks edged higher, Reliance Industries advanced 3.6%, Indian Oil Coporation climbed 3.2% and HPCL extended 2.1%.

Cement stocks were also trading higher on back of firm IIP data, Ambuja Cements was the prominent gainer, up 6.7%, ACC extended 8.6% and JP Associates advanced 5.1%.

Top gainers on Sensex were Wipro (up 3%), Reliance Communication (also up 3%) and NTPC (up 2.7%). Among the top losers, Bharti Airtel and Bajaj Auto (down over 2%), and Tata Motors (down 1.9%).

The broader markets also bounced back, midcap and smallcap indices were up over 2% each. Market breadth was positive, 1887 stocks advanced for 1001 stocks that declined.