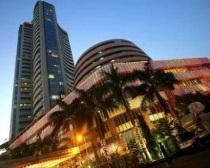 Key share indices staged a smart recovery in late trades to end marginally lower on Thursday, amid a sharp intra-day decline on account of lower-than-expected fourth quarter GDP, after index heavyweights Reliance Industries and Infosys reversed intra-day losses.

The 30-share Sensex ended down 99 points or 0.6% at 16,219 and the 50-share Nifty ended down 26 points or 0.5% at 4,924.

The Sensex had touched a intra-day low of 16,086 and the Nifty touched 4,884 post the annoucement of the fourth quarter GDP numbers.

In May 2012, the Sensex was down 6.4% and the Nifty was down 6.2% recording its second worst monthly performance  after May 2006 when both the Sensex and the Nifty plunged 13.7% each.

India's gross domestic product growth in the January-March quarter plunged to a nine-year low of 5.3%, against a consensus of just over 6%, due to contraction in the manufacturing sector.

GDP growth for the corresponding quarter last fiscal (Jan-Mar 2011) was 9.2% and 6.1% in the previous quarter (Oct-Dec 2011). GDP growth for 2011-12 stood at 6.5%.

"We weren't expecting such a fall in the Q4 GDP numbers.

"Though weakness in the manufacturing and agriculture sectors was expected, it's the fall in the services sector that has caught us off guard.

"This drop is a huge concern for us.", Upasna Bhardwaj, Economist, ING Vysya Bank told Business Standard.

Among the sectoral indices on the BSE, the Auto index was down 2% and the Bankex ended 0.9% down.

Among Sensex stocks Tata Motors ended down 2% at Rs 233 on account of lower than expected EBITDA (earnings before interest, taxes, depreciation, and amortization) margin at Jaguar Land Rover (JLR) of 14.6% against analyst estimate of around 16.5% during the quarter ended March 2012. The consolidated EBITDA margin has improved by only 30bps at 14.1% on year-on-year
basis.
In the banking pack, ICICI Bank ended down 4% at Rs 784 after the stock turned ex-dividend from today.
The board of directors of India's largest private sector bank has recommended a dividend of Rs 16.50 per equity share of face value of Rs 10 each.
"The Register of Members & Share Transfer Books of the bank will remain closed from June 02, 2012 to June 25, 2012 (both days inclusive) for the purpose of payment of dividend & Annual General Meeting (AGM) of the company to be held on June 25, 2012," ICICI Bank said in a filing. SBI ended down 2% at Rs 2,056.
DLF ended down 0.8% at Rs 185 after reporting a 39% year-on-year (y-o-y) drop in its consolidated net profit at Rs 212 crore for the quarter ended March 31, 2012 due to lower income and higher interest cost.
Among other shares, Fresenius Kabi Oncology has tanked 20% to Rs 108, after hopes of delisting the shares by its promoter Fresenius Kabi Oncology (Singapore) was seen fading.
Financial Technologies ended up 3.6% at Rs 600 after reporting a turnaround performance for FY12 on wednesday.
The company posted a net profit growth of 420% to Rs 478.03 crore for the year ended March 31,2012. Standalone EBITDA was up by 112% at Rs 577.20 crore at the same time.
Income from operations for the year under review grew by 23% at Rs 412.65 crore from Rs 334.45 crore in the financial year ending March 31, 2011.
Kaaveri Telecom has rallied 11% to Rs 183 after the board of telecom equipment maker at its meeting held on May 30, approved setting up of a subsidiary in USA to acquire companies in USA.
The broader market ended mixed.
The market breadth was weak with 1,416 declines and 1,184 losers on the BSE.