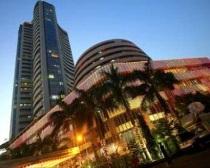 Markets ended in the negative zone albeit off the day's low.
The Sensex slipped to a low of . . . follwoing a dismal IIP data.
Selling pressure in bank and metal stocks also weighed on sentiments.
The index recovered marginally to end down ...
Continuing its dismal performance, industrial growth fell further to 1.9% in September, mainly due to poor output from the manufacturing sector.
Growth in factory output, as measured in terms of the Index of Industrial Production, stood at 6.1% in September last year, as per the latest data.
The IIP growth figure for August this year has been revised downward to 3.59% from the provisional estimate of 4.1%.
Data also showed that food inflation has declined marginally to 11.81% in the week ended October 29.
However, the slight moderation in the rate of price rise provided little respite to consumers burdened by high prices of essential kitchen staples like vegetables and pulses.
Food inflation, as measured by the Wholesale Price Index, stood at 12.21% in the previous week ended October 22. The rate of price rise of food items stood at 12.68% in the corresponding week of the previous year.
European stocks were in the green after brighter corporate news lifted US stocks and debt-laden Italy was able to fund itself at a bond auction.
The CAC added 0.6% to 3,083. The DAX and FTSE were up marginally. In Asia, Hang Seng advanced neraly a per cent to 19,137.  Seoul Composite surged 2.7% to 1,863.
Meanwhile, leading rating agency Standard & Poor's upgraded India's banking industry on Thursday, terming the country's domestic regulations in line with international standards.
BSE bankex dropped 3% to 10,687.
ICICI Bank was the biggest dragger -- down 4.5% to Rs 823.
SBI was down 3.5% at Rs 1,798 while HDFC Bank slipped 3% in trades.
BSE metal, capital goods and realty indices dropped over 2% each in trades.
Tata Steel tumbled 4% to Rs 430 after weak Q2 results. The company reported 93% year-on-year (y-o-y) decline in consolidated net profit to Rs 139 crore for Q2FY12 due to higher raw material costs.
The Tata Group company had clocked a profit of Rs 1,968 crore in the corresponding quarter last fiscal. However, net sales grew 16% to Rs 32,507 crore on a y-o-y basis.
The company's total expenditure also went up to Rs 31,157 crore during the quarter against Rs 26,052 crore in the year-ago period.
Among other metal stocks, Hindalco slipped 4.3% to Rs 129 as a weak outlook weighed on investor setiments. Hindalco's net profit stood at Rs 503 crore for Q2FY12 against Rs 434 crore in the corresponding quarter last fiscal; its revenues were Rs 6,272 crore against Rs 5,860 crore in the same quarter in 2010-11.
Analysts expected the Aditya Birla group company to register a net profit of Rs 511 crore from during the recently concluded quarter.
However, market heavyweight Reliance bucked trends and ended up 2.2% at Rs 884. However, weakenss in ICICI Bank and Infosys dragged the Sensex into red.
Meanwhile, Kingfisher dropped 9% to Rs 19.65.
The airline, which has been cancelling flights across several routes, faces fresh trouble as some companies who have lent aircraft to the loss-making airline plans to take them back, while about 130 staff pilots have quit in the past few weeks.
Trial today commenced in a Delhi court in the 2G spectrum allocation case in which former Telecom Minister A Raja, DMK MP Kanimozhi, corporate honchos and telecom firms are among the high-profile accused.
Stocks related to the scam - Sun TV Network, DB Realty, Unitech and Reliance Communications slipped 2-4% each.
BSE market breadth was negative. Out of 2,961 shares traded, 1,907 shares declined while 941 shares advanced.