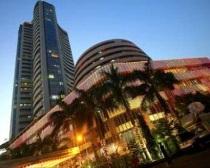 Markets rebounded smartly in late noon trades, on the back of buying in index heavyweights.

The Sensex recovered 208 points from the day's low to touch a high of 18,690.

The BSE benchmark finally ended up 146 points at 18,481.

Nifty ended at 5,614 -- up 47 points.

Gains in the European markets triggered by strong corporate results, helped the Indian bourses gain.

A meeting of euro-zone leaders is scheduled on Thursday to finalize a bailout package for Greece.

CAC has jumped 1% to 3,690. DAX is up 1.5% while FTSE has gained 0.5% ion early trades.

Banking major, HDFC Bank came out with Q1 numbers this afternoon.

The bank saw a 33.6% rise in Q1 profit, beating street estimates, on strong loan demand and fees income.

Its net profit in the June quarter rose to Rs 1,085 crore ($243 million) from Rs 812 crore rupees a year ago.

The stock was down 0.7% at Rs 511.

Analysts expect the Reserve Bank of India to raise key policy rates once again in its first quarter review of the monetary policy on July 26.

The move is expected in lieu of the high inflation figures which the government is trying to tackle.

Banking heavyweight, ICICI Bank advanced 1% to Rs 1,060. Together with Reliance and Infosys, the three heavyweights took the markets higher.

"IT stocks have found some support at imp levels for INFY it was 2700; TCS 1110. We need to watch how they perform in next few days as momentum has not yet picked up," said Rakesh Gandhi, Sr Technical Analyst --
Advisory, LKP Securities.
In other news, US Secretary of State, Hillary Clinton hopes strengthen ties with India in her two-day trip to the country.
The Congress-led Government and Bhartiya Janata Party gave a fresh lease of life to the much awaited GST (Goods and Services Tax).
The government agreed to appoint Sushil Modi, a senior BJP Member for implementing the tax which aims to streamline the complex Indian tax regime.
NTPC gained 1% at Rs 188 after signing an MoU with the government of Kerala to develop wind energy-based power projects. Out of a total 200 MW, first 80MW wind energy projects will be developed on fast-track basis at Ramakkalmadu by NTPC.
Tata Motors slipped 3% to Rs 984 on turning ex-dividend. Hero Honda and Maruti Suzuki slipped nearly 1% each.
Other auto stock, Ashok Leyland, dropped 2.7% to Rs 50.70 after posting a 30% decline in Q1 net. The net profit for the company stood at Rs 86.25 crore as against Rs 122.6 crore (q-o-q). High raw material prices seemed to have impacted the margins.
Results also impacted shares of Crompton Greaves.
The stock tumbled 14% to Rs 208. The company has reported 58% year-on-year drop in a consolidated net profit at Rs 79 crore for Q1FY12, against Rs 191 crore in the corresponding quarter of previous fiscal.
Analyst expected a net profit of Rs 202 crore for June 2011 quarter.
The BSE market breadth was marginally positive. Out of 3,004 stocks traded, 1,642 advanced while 1,228 declined in trades.
Wipro, Dr Reddy's, LIC Housing Finance and Dish TV are set to announce their Q1 numbers on Wednesday.