The Rs 30,000-crore consumer durables market is expected to rake in more money this summer on the back of rising mercury levels. With overall market sales expected to grow more than 30 per cent for air conditioners and over 20 per cent for refrigerators, top appliance brands like LG, Samsung, Godrej and Whirlpool are expecting double-digit growth rates.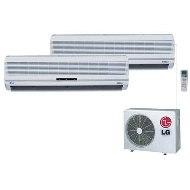 Samsung India is expecting a 100 per cent jump in AC sales this year, of which 70 per cent would be contributed by split ACs, which are leading the market. "We expect to sell one million AC units this year, as compared to 5,00,000 sold last year. Overall, we expect a 50 per cent jump in sales from ACs and refrigerators this summer. The summer products do show a sudden spurt of sales, especially for ACs. In fact, we saw an increase in the sales of ACs and refrigerators in Chennai and Hyderabad as early as the first week of February," says Ruchika Batra, spokesperson for Samsung India Electronics.
The company recently set up a new line for split ACs at its Noida plant, at an investment of $10 million, making a total production capacity of 1.2 million units per annum for split ACs across its Noida and Sriperumbudur facilities. Samsung launched 25 new models of ACs and 62 five-star rated refrigerators this summer. The company expects a huge chunk of its sales from its range of five-star products, including a jump of 30 per cent in sales of five-star ACs this summer. "We aim to capture a market share of 30 per cent in AC segment, 26 per cent market share in refrigerators and most of all, 40 per cent of the market share of frost-free refrigerators this year," says Batra.
"With the rising mercury heating up expectations, summer launches have become all the more special now. LG Electronics has introduced a spectacular range of ACs and energy-efficient direct cool refrigerators to attract the consumers. With the early arrival of summer this year, coupled with increased consumer confidence, AC and refrigerators sales have witnessed a high jump," says Moon Shin, managing director of LG Electronics India. "The expected growth in sales in refrigerators is 55 per cent, compared with 35 per cent last year, and in ACs it is 50 per cent compared with 30 per cent last year. The summer sales this year started in the first week of March for us, unlike the usual third week of March."
Using green leverage
LG has introduced five-star rated ACs, which it believes will make up 30 per cent of total AC sales. "Keeping in line with the global direction to use greener technology in air conditioners, LG has launched the invertor range of ACs, which save up to 40 per cent energy and use environment-friendly refrigerant R410a. Considering a high growth rate of sales in products, especially ACs and refrigerators, we are planning an aggressive summer marketing strategy. Beyond that, the focus is on providing quality products, for which we are emphasising on the use of greener products, as Indian consumers nowadays are willing to look for green and energy-efficient solutions," added Moon.
The company recently doubled its manufacturing capacity from 0.8 million last year to 1.4 million at its Greater Noida and Pune plants.
Videocon is expecting to grow over 60 per cent in volume and 70 per cent in value in ACs. As for refrigerators, the group is expecting a growth of 40 per cent in both value and volume. "Last summer, we had grown by around 35 per cent in ACs and 30 per cent in refrigerators. This year, the summers are a little early, which will definitely help in early purchase, boost the sales of home appliances, especially ACs and refrigerators and also inverters, and also push up volumes for us. We expect that split ACs, together with the hi-end, ref range, will contribute to the major chunk of summer sales," says Jaideep Rathore, Chief Marketing Officer, Videocon.
Product innovation
The group has launched more than 20 new models of ACs this year. The innovations include a feature in which a Vitamin-C filter releases vitamin-C molecules in the air to soften the skin and improve resistance against common cold, cough & other viral diseases. Videocon also launched six models of refrigerators, with plans to introduce another 10 models in a couple of months.
Similarly, Godrej Appliances is expecting 50 per cent growth in sales of ACs and 30 per cent growth in sales of refrigerators this summer. "Last year, we had an extended summer from March to July. While this year, the sales of appliances like ACs and refrigerators have begun as early as February. We launched 13 new models of ACs this summer and will launch a frost-free range," says Kamal Nandi, VP - Sales & Marketing, Godrej Appliances, adding that Tier-II and Tier-III cities have been growing faster than Tier-I when it comes to the sale of appliances.
Whirlpool says it hopes to treble its volumes this summer and thereby make a stronger presence in the AC category. "We expect to have strong double-digit growth this summer, driven by ACs and refrigerators. We launched 40+ SKUs (stock keeping units, or products) in January, concentrating our new range in the fast-growing split segment. This was followed by the launch of a new range of frost-free refrigerators in March and we are already seeing the benefits of these early launches. The onset of an early summer is helping demand," says Shantanu Dasgupta, Vice President, Corporate Affairs and Strategy, Asia South, Whirlpool.
Economy also strong
Added Dasgupta: "However, if there is an early monsoon, it may even out. The underlying trends are positive and that is what matters. Consumer sentiment is much more positive this year. We were emerging from the recession last year but the scenario now is quite different. The economy is on a strong footing, investments are back, employment is buoyant, and salary increases are reportedly higher."
Birla Electricals, a Yash Birla Group company, has seen a marked increase in the sale of its ACs and coolers this summer. "The growth rate of ACs and coolers has been phenomenal. We believed in being an early bird and started placement in mid-February. This year, the summer purchase began end-February and the beginning of March, as against the normal end-March. Normally, the sales drop after the first or second burst of heat. However, this year, even during April, the sales of coolers continued to be brisk. Global warming has added to the heat by two degrees. This early and extended summer has led to increased sales of coolers and ACs for us," says Raju Todi, CEO.