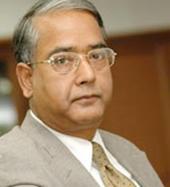 The Supreme Court on Monday declined to entertain a plea seeking the removal of U K Sinha as Sebi chairman saying that instead of raising constitutional issues on the appointment of the regulator the petitioners targeted an individual.
The court was anguished that despite asking the petitioners to raise the issues of constitutional principles, they made averments against a particular person.
"The petition points towards that (to a particular person) despite during the previous hearing we pointed out that," a bench comprising Chief Justice S H Kapadia and justices A K Patnaik and Swatanter Kumar said.
The bench said the second time also the petition has been filed "which has nothing
to do with the constitutional principles".
"The question is about regulatory independence but I don't find a single sentence on it. The averments are leading to some pending matter which we cannot touch in this," the CJI said.
The petition was filed by former IAF chief S Krishnaswamy and retired IPS officer Julio Ribeiro who had submitted that the new procedure, stipulating a five-member selection committee for selection of the Sebi chief in place of the existing three members, was wrong and there was an ulterior motive behind it.
However, the bench, which expressed its reservation about going into their plea, said that "under the garb of raising constitutional issues you cannot say so and so is a relative of so and so".