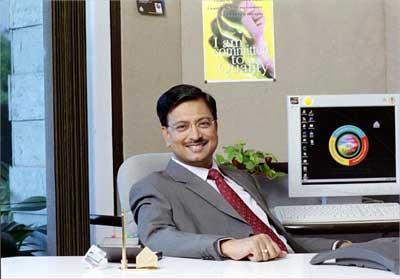 The disgraced former chairman of fraud hit Satyam Computer, B Ramalinga Raju, his brother former managing director B Rama Raju and former chief financial officer Vadlamani Srinivas have been remanded to CID custody for four days by a local court in Hyderabad on Saturday.
The 6th Metropolitan Magistrate M Ramakrishna passing the orders on a petition of the Crime Branch-CID of Andhra Pradesh Police on Saturday remanded them to the CID's custody for four days, starting Sunday.
The judge, however, laid down the condition that they should be questioned only during the day and there should not be any use of force against them.
The CID had sought their custody for a week saying it could not question them after the arrest earlier this month. After Saturday's orders, the bail petition of three former Satyam officials will not come up for hearing on Monday.
Ramalinga Raju's counsel S Bharat Kumar had earlier opposed his clients' remand to CID's custody apprehending they would be subjected to third degree torture.
The CID, which arrested Ramalinga Raju and Rama Raju on January 8 and Srinivas a day later, following the disclosure of massive Rs 7800-crore (Rs 78-billion) fraud in the software company had sought their custody for further questioning.
The public prosecutor Gargaraju Prasad pointed out that the CID did not get any time to question the Satyam top brass and need more time to get answers to many crucial questions.
While the two brothers Ramalinga Raju and Rama Raju were remanded to judicial custody on January 9 till January 24, Vadlamani was remanded on January 10 for same duration.
On Monday, the court will hear the petition of the Securities Exchange Board of India seeking access to Raju for questioning.
The vital questions to which the CID wants to find answers from Raju include since when exactly the accounts of the companies were being cooked up and where exactly the Rs 7800 crore had gone. CID would also like to know if the money was used to buy land for Maytas companies owned by Raju's sons.
Image: B Ramalinga Raju, former chairman, Satyam Computer Services, in his office in Hyderabad. | Photograph, courtesy: Satyam