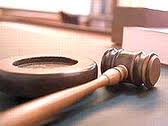 The Supreme Court on Thursday issued notice to the Centre and West Bengal government on a public interest litigation seeking CBI probe in Saradha chit fund scam.

A bench of Chief Justice Altamas Kabir also issued notice to other state governments and the Centre on the petitioners' pleas for empowering Securities and Exchange Board of India to regulate chit fund schemes in the country.

The court passed the order on two PILs filed by Pratim Kumar Singha Ray and Subrata Chattoraj seeking
to stop the entire chit funds business in the country and also for a restraint on further collection of funds from investors as an immediate remedial step.
The petitioners said they have no faith in the police authorities.
They alleged that the proceedings initiated by state government appeared to be 'biased and prejudiced' and that is why they are seeking a CBI probe into the multi-crore Saradha chit fund scam in West Bengal.
The petitioners also sought a direction to the Centre to stop the entire chit funds business in the country till a proper mechanism is put in place to regulate them.