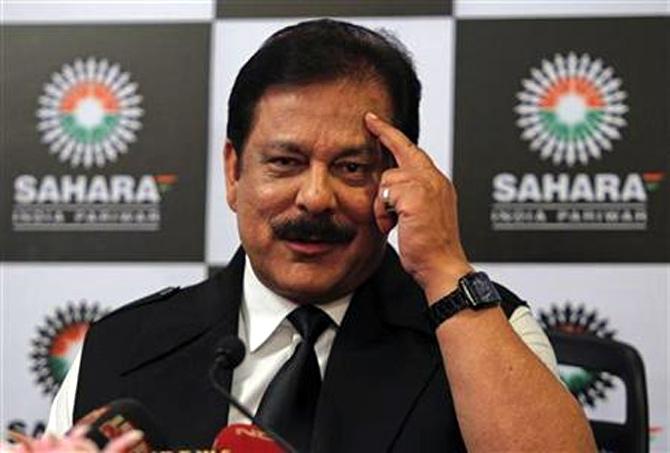 Shares of two Sahara firms fell by up to 5 per cent on Wednesday, after the group's chief Subrata Roy and two directors were jailed for a week for not complying with the Supreme Court order on refunding around Rs 20,000 crore (Rs 200 billion) of investors money.
Sahara One Media & Entertainment's scrip tanked 4.92 per cent to Rs 61.80 -- its lowest trading permissible limit for the day at the BSE.
Shares of Sahara Housingfina Corporation were also down by 3.15 per cent touching its lower circuit limit of Rs 39.25.
Amid high drama in the apex court premises on Tuesday, where a Gwalior resident threw ink on Roy and blackened his face calling him a "chor", a two-judge bench minced no words to tell him, "You pushed us to the corner. Had you been serious, this position would not have arisen".
Making it clear that the order on custody of Roy and two other directors Ravi Shankar Dubey and Ashok Roy Choudhary was not in the contempt case, the court spared another director Vandana Bhargav because of her being a woman. It fixed March 11 as the next date of hearing.