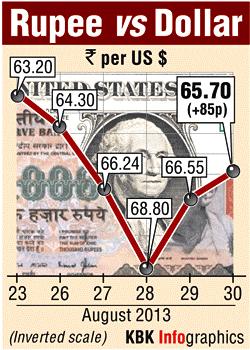 The rupee posted its biggest monthly fall in at least 18 years but gained for a second straight session on Friday as aggressive central bank intervention and positive local and regional cues helped.

The rupee's 8.1 per cent fall is likely the worst performance for the currency ever, but data beyond 1995
was not immediately available.
The partially convertible rupee closed at 65.70/71 per dollar, up 1.3 per cent on the day.
It had closed at 66.55/56 on Thursday, after gaining 3.5 percent, in its biggest single-day gain in 15-1/2 years.
On the week, the rupee declined 3.8 per cent, its worst weekly performance since the week to September 23, 2011.