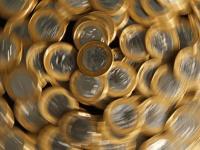 Weakness in stocks notwithstanding, the rupee on Tuesday gained 14 paise at 52.87 to snap a two-session fall on fresh dollar selling by exporters on the back of sluggish movements of the US currency overseas.

At the Interbank Foreign Exchange (Forex) market, the domestic currency commenced slightly better at 53.00 a dollar from Monday's close of 53.01.

An initial rise in dollar demand pulled rupee down to day's low of 53.02, said dealers.

However, it later bounced back to a high of 52.78 as exporters were seen selling dollars on the back of fall in its value overseas and hopes of further decline in the wake of reports that Spain was considering requesting a line of credit from Europe's bailout fund.

The rupee finally closed at 52.87, a rise of 14 paise or 0.26 per cent over Monday.

Brokers said trading was very narrow with the rupee stuck in a 23-paise range.

Forex dealers said rupee also gained strength after RBI Deputy Governor H R Khan's comments that monetary and fiscal policy have to move in tandem.

"As we have articulated time and again, it (monetary policy) has to be in tandem with the fiscal policy. It has to be a joint venture. It is not a solo play," Khan said.

Meanwhile, the Indian stock market benchmark Sensex, which was up till afternoon, closed down by 135.85 points or 0.73 per cent on fag-end
selling.
The dollar index was down by 0.33 per cent against a basket of six major currencies while New York crude oil was quoting near $92 a barrel in Europe on Tuesday.
"The weakness in stocks dragged the rupee lower during the session," said Pramit Brahmbhatt, CEO, Alpari Financial Services (India).
Abhishek Goenka, Founder and CEO, India Forex Advisors said: "A rate-cut is quite unlikely, because the inflation data has been much above the consensus.
"We expect that the rupee has made a temporary short term bottom below 51.50 levels and look it in the range of 52 - 54 levels for next of couple of months."
The premium for the forward dollar closed slightly lower on fresh stray receipts by exporters.
The benchmark six-month forward dollar premium payable in March softened to 148-150 paise from Monday's close of 149-151 paise.
The premium for far-forward contracts maturing in September also eased to 293-295 paise from 294-296 paise.
The RBI has fixed the reference rate for the US dollar at 52.8193 and for euro at 68.6125.
The rupee also recouped against the pound sterling to end at 85.01 from overnight close of 85.15 and also rebounded against the Japanese yen to 67.04 per 100 yen from 67.38.
It, however, moved down further to 68.78 per euro from last close of 68.76.