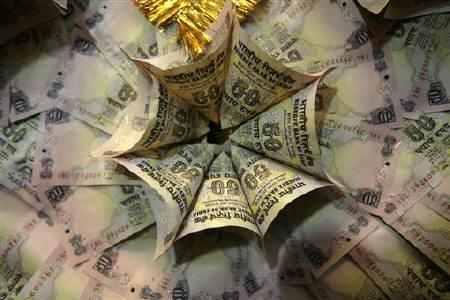 As global economic risks continue and FII investments in the country becoming volatile, the rupee is likely to remain under pressure and hover around the 52-54 level against the US dollar in the next 10 days, forex market experts feel.
"Rupee looks to remain under pressure during the coming days. With global risks prevailing and FII (foreign institutional investors) fund inflows slowing down, the local currency is likely to move around the crucial 54-54.30 level during the coming days of this month," HDFC Bank chief dealer Ashtosh Raina told PTI.
Echoing similar views, N S Venkatesh, Head (Treasury) IDBI Bank, said: "The rupee is still expected to remain under pressure. Trade flow has to be present. There will be holidays as well, which will also affect the local unit".
The rupee is likely to move in the 52-53.80 range as the results season might boost the equities market and that would cap the currency's losses against the Greenback, he added.
The rupee touched a one-month low of 53.84 against the dollar on Friday, logging a loss of 43 paise due to heavy demand for the American currency from oil importers and defence companies.
FIIs made investments worth a meagre $14.89 million (Rs 80 crore) on that day. They have made a total investment of around $17.30 billion this year.
"Heavy dollar buying by oil companies in the last two days of the week (ended October 19) has badly hit rupee. In the remaining days of this month, the rupee movement will depend on Q2 results of various companies," Dhanlaxmi Bank Executive Vice President (Treasury) Srinivasa Raghavan said.
He added that the rupee is likely to move in the 53-54.25 range this month with the possibility of falling below the 54 mark if quarterly results are not up to market expectations.
However, if that situation arises government is likely to take care of it by coming out with further liberalisation of external commercial borrowing (ECB) norms, Raghavan added. He said on the appreciation side, rupee can go up to a maximum of 52 this year.
Last month, Finance Minister P Chidambaram cut the withholding tax on overseas borrowings to 5 per cent from 20 per cent, in order to enable domestic companies access cheaper funds from abroad.
"It is to encourage overseas borrowings. Interest rates are low abroad and these low cost funds can come to India," Chidambaram had said.
HDFC Bank's Raina said, the market is not expecting any more reform measures from the government that will impact the Indian currency as possibly much has already been done to help the rupee. "The rupee is expected to move under pressure this year and is unlikely to improve from the 54-level," Raina added.