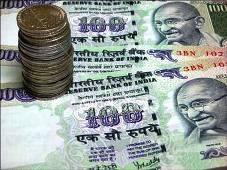 The rupee on Friday rose to over five-month high of 52.49 against the dollar on strong capital inflows, advances in stock markets and hopes of more policy reforms.

The local currency, however, ended the day at 52.85 after poor core sector numbers dampened the sentiment.

Forex dealers said heavy dollar selling by exporters and banks amid weak dollar overseas helped the rupee to rally for the second day in a row.

At the Interbank Foreign Exchange (Forex) market, the domestic unit resumed remarkably higher at 52.73 a dollar from previous close of 53.02.

Tracking stock market movements, the rupee touched a high of 52.49 in late morning deals, a gain of 53 paise from
its last close.
However, sudden emergence of dollar demand from importers, mainly oil refiners, pulled down the rupee to 52.85, still showing a rise of 17 paise.
"Rupee appreciated in the morning session on the back of FII inflows and dollar selling by foreign banks. However, as the domestic currency strengthened, it gave a good opportunity for oil marketing companies to buy dollar due to attractive rates, which pulled rupee to the closing level," IDBI Bank Treasury Head N S Venkatesh said.
The last time rupee settled below this level was on April 30 this year, when it closed at 52.73.
On fund-flows front, foreign institutional investors (FIIs) injected USD 118.46 million yesterday, taking the total to USD 3.56 billion in the current month till September 27, as per Sebi data.