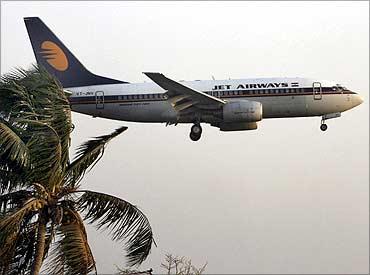 With the depreciation of the rupee and a rise in crude oil prices beginning to pinch them, airlines in India have begun raising fares. Since Thursday, Jet Airways has started levying a surcharge of $50 on the economy class fare on its Gulf flights. SpiceJet, is planning to increase the surcharge on its domestic flights.
Domestic airlines have so far been shy of revising fares, fearing it would hit passenger traffic. Air fares are about 20 per cent lower year-on-year despite the rising costs.
From Thursday, Jet Airways began levying the additional surcharge on its flights to Dubai, Kuwait, Doha and other destinations in the Gulf. The $50-dollar surcharge is being levied only on higher-level economy class fares and till September 10. There are two reason for the surcharge increase — the demand for travel to Gulf is higher after the Eid holidays and the rise in operating costs.
Jet Airways did not respond to an email questionnaire. "Flights to the Gulf are going full. While the lowest one-way Mumbai-Dubai fare comes around Rs 9,000, higher-level economy class seats are available now. A one-way ticket to Dubai on September 5 costs around Rs 25,000. Tickets to Doha, too, are not available for next few days," said a travel agent.
Among other airlines, SpiceJet is considering an additional surcharge to meet the cost burden due to rupee depreciation. "The currency has depreciated from 55 to 68 (against the dollar). Public sector oil companies are able to pass on their costs to us but we have been unable to pass the extra charge to passengers," said an airline source.
At present, airlines charge a basic and fuel surcharge. In addition, there are government and airport taxes. SpiceJet might either revise existing surcharge or create an additional category of surcharge to offset costs incurred due to rupee depreciation. This could be a short-term measure and can be revised once the rupee stabilises and a decision on the issue taken over the next two days, the source added.
According to an Air India executive, charging a separate surcharge was not a wise option and it had no such plans. "Instead of a new surcharge, airlines should stop selling lower-priced fares. The low fares are not sustainable," he added.
GoAir and IndiGo did not respond to a query on the issue.
Foreign carriers, too, have begun raising the fares. On Wednesday, Emirates and Kenya Airways informed travel agents of increased fares in all classes.
Kenya Airways has raised the fare from India to Nairobi and other African destinations by five per cent to meet increasing costs. Emirates said it had increased the fares by five-10 per cent in all the three classes.
Emirates had made an upward revision in fuel surcharge earlier this month. Cathay Pacific, too, has made a modest $2-5 revision in fuel surcharge it collects from passengers.
"The rupee depreciation will certainly have an impact, specially in the international sector as there airlines have to compete with foreign carriers. Air fares may go up and this will take a toll on air traffic. Already, all airlines are incurring losses or are marginally profitable. We have scheduled a meeting with airlines in the middle of next month to look into the issue," said a senior civil aviation ministry official.