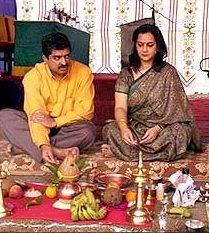 IT services major Infosys said Rohini Nilekani, wife of one of its co-founders, Nandan Nilekani, has raised about Rs 163.58 crore (Rs 1.63 billion) by selling 5.77 lakh of her shares of the company for philanthropic work.
In a BSE filing, Infosys said Rohini Nilekani, who is also a promoter in the company, sold 5.77 lakh shares between July 16-19 for a total of Rs 163,51,83,925.
Post sale, Rohini Nilekani's stake in Infosys stood at 1.31 per cent or 75,01,174 shares, it added.
For the period ended June 30, 2013, her stake in the firm was 1.41 per cent or 80,78,174 shares.
In the filing, she said: "For the past several years, I have taken philanthropic initiatives in multiple sectors such as education, water, environment and governance among others.
The proceeds of the sale of shares, post tax, will be deployed towards these and other philanthropic contributions, over time."
Rohini Nilekani's husband Nandan Nilakani co-founded Infosys with seven other engineers including NR Narayana Murthy in 1981.
For the quarter ended June 30, 2013, Nandan Nilekani held 83,45,870 shares, or 1.45 per cent stake in the Bangalore-based firm.