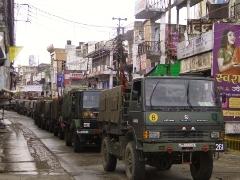 The communal violence here comes at an unfortunate time for local industry. Already facing increases in input prices of raw material, higher electricity rates and suppressed demand, businesses here are sure the worst is not going to end soon.

Local industrialists says the daily combined loss is about Rs 25 crore (Rs 250 million).

The slowdown began around 10 days earlier as the violence spread through the town and less labour came for work. In the past four days, all factories in the town have remained closed.

"I am an optimist but how will we recover our losses?" asked Pankaj Agarwal, head of the Muzaffarnagar Municipal Council and also chairman of the UP Paper Mills Association. The town has 30 paper mills, which includes companies such as Bindals Papers, Silverton Papers and Rana Papers.

"I don't see normalcy for another week. All the labour comes from villages and they are unlikely to return to work anytime soon," said Agarwal.

Muzaffarnagar lies in the sugar belt of the country.

Industrialists here said the economy was built around three industries -- paper, steel mills and sugar.

Of a little over 500 factories, there are around 100 steel mills, 30 paper mills and seven sugar mills.

These combined provide employment for around 100,000 people.

Apart from this, around 5,000 shops have remained shut.

The economies of these industries are dependent on each other.

Bagasse from the sugar industry is used as a raw material for the paper industry and also as a raw material to produce electricity, used by the steel mills and the sugar industry.

"We export to Southeast Asia and Africa. The factory used to work round the clock in two shifts. Now, I am stuck because a boy teased a girl and the administration let the situation go out of control," said Kush Puri, who runs Puri Industries.

His company manufacturers spare parts for sugar mills.

So far, the sugar industry has not been directly impacted, as the season begins in October-November. "We are monitoring the situation.

There is unlikely to be any direct impact as of now," said Deepak Gupta, secretary of the UP Sugar Mills Association.

Meanwhile, curfew was relaxed on Tuesday for two hours in the district, even as the number of confirmed deaths rose to 38.

The relaxation was given to allow people to make necessary purchases, said District Magistrate Kaushal Raj Sharma.

Prime Minister Manmohan Singh expressed 'deep anguish' over the loss of lives.

He has sanctioned Rs 200,000 each to the next of kin of the dead and Rs 50,000 each to the seriously injured.
Image: The army conducts a flag march in violence-hit Muzaffarnagar; Photograph: Rediff Archives